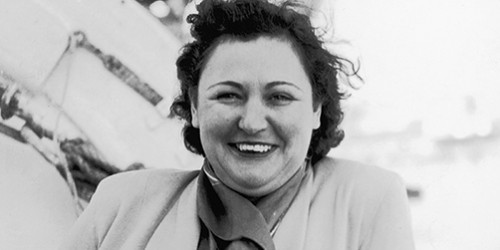 In a documentary screened on Maori Television called 'Nancy Wake Remembered', Black Ferns loose forward Charmaine McMenamin speaks about how the Wellington-born war heroine motivated them during their successful 2017 World Cup campaign.

"All our coach (Glenn Moore) said was I have a role model for you. She is a Kiwi and her name is Nancy Wake. I want you to find out all you can about her. Do your research and then report back to us."

Black Ferns assistant coach Wesley Clarke said the team had to present to the group what they learnt about Nancy Wake.

"They were all in small groups, but they weren't allowed to present the same stuff. So, they had to work together to determine who would cover what, whether that be her early life or later on. It was fair to say a few people were hard to keep quiet once they got started on Nancy. Her inspirational story quickly made it's mark on the team."

This was a year out from the 2017 campaign and it really set the precedent for the Black Ferns squad.

Nancy Wake was born in Wellington in 1912. She moved to Australia when she was two and then at the age of 16, she made her way to London where she trained as a journalist. She eventually moved to Paris and was living in Marseille when the Nazis invaded France in 1940.

Wake became part of the French resistance and worked as a courier, helping people get out of France. The Gestapo even had a code name for Wake – the 'White Mouse' because of her ability to elude capture. She was constantly in danger, and after many attempts she managed to flee France, crossing over the Pyrenees into Spain and onto the UK. She then joined the Special Operations Executive, was trained in sabotage and raiding operations and was parachuted back into France.

McMenamin said Nancy Wake became such a rock for the team.

"I remember days at training where we would be having an off day and our coaches would pull us up and say, would Nancy be happy with this? And we knew she wouldn't, so we then had to rectify it."

Clarke said once they realised Nancy's influence on the Black Ferns team, they started to get clever with their communication.

"We did get smart in keeping her accountable. Nancy's standard was hard to beat in terms of what she had to do to get a job done. So, our language in the team started revolving around her and it became a theme for us."

The Black Ferns went on to defeat England 41-32 in the final in Dublin, claiming their fifth world title and when it came to the naming of the trophy, McMenamin said the answer was obvious.

"Nancy. We weren't going to call it anything else. She was our drive throughout the whole campaign."

Clarke remembers when he first heard the trophy being referred to as Nancy.

"My first memory was the morning after the final at the airport. We were looking for the tournament trophy and Kendra Cocksedge was calling it Nancy. It was quite exciting at the time to hear that. We had no idea it was going to stick and who knows it may have a future with us as well."