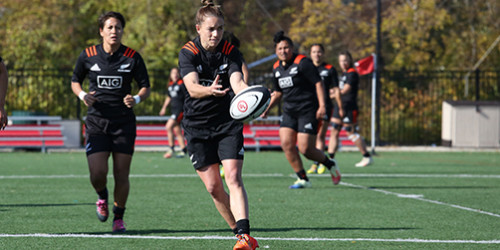 The squad is (Test caps in brackets. *New cap):
1. Phillipa Love (4)
2. Fiao'o Faamausili (54, captain)
3. Aldora Itunu (17)
4. Eloise Blackwell (34)
5. Charmaine Smith (18)
6. Charmaine McMenamin (16)
7. Les Elder (11)
8. Aroha Savage (30)
9. Kendra Cocksedge (44, vc)
10. Ruahei Demant (2)
11. Ayesha Leti-I'iga *
12. Chelsea Alley (17)
13. Stacey Waaka (13)
14. Renee Wickliffe (32)
15. Selica Winiata (33)
16. Te Kura Ngata-Aerengamate (22)
17. Leilani Perese (2)
18. Aleisha-Pearl Nelson (26)
19. Jackie Patea-Fereti (14)
20. Linda Itunu (37)
21. Kristina Sue (12)
22. Krysten Cottrell (2)
23. Monica Tagoai*
The team features the starting selection of Wellington speedster Ayesha Leti-I'iga to the left wing. The 19-year-old is enjoying a remarkable ride in rugby, named in Glenn Moore's squad after she was crowned Wellington's women's club player of the year.
The teenager scored 41 tries in just 13 matches this year, including a hat-trick on nine occasions. She debuts on the left wing, with the experienced and wise Renee Wickliffe keeping an eye on her from the right wing.
Moore said Leti-I'iga had been on Black Ferns' selectors' radar for the last couple of years and was now beginning to mature and grow.
"Ayesha is the highest try scorer in the Farah Palmer Cup and also in club rugby in New Zealand.
"Coming into this level of rugby is always a challenge and there's plenty for the new ones to learn. But she's progressed well in our environment and received great support from the more experienced players. We're really excited to watch Ayesha on the big stage this weekend."
An incredible experience for the #BlackFerns, going courtside at the @chicagobulls v @nuggets game! @pango_wickliffe joined fellow players from @TheRugbyWeekend teams for a challenge during a timeout ??#USAvNZL #TheRugbyWeekend pic.twitter.com/z0nWgVRmAw— Black Ferns (@BlackFerns) November 1, 2018
Another fast, young Wellingtonian, 20-year-old Monica Tagoai will debut off the bench.
"Monica is a talented centre who can play on the wing as well. She has the ability to beat defenders and she has real speed. Monica has worked hard in camp and really grown. She's proven she deserves her opportunity to wear the black jersey."
Waikato's Chelsea Alley will start at 12 after an impressive Farah Palmer Cup season that saw her finish among the top goal kickers.
"Chels has been a Black Fern since 2013 and we've seen a lot of growth in her, particularly this year. She's emerging as a real leader and we know she's ready to step up and help control the game at the weekend."
The Black Ferns last faced the USA in a World Cup semifinal in 2017, a match the New Zealand side won 45-12.
Moore said the Black Ferns were likely to face a very different side on Saturday with a host of new caps in the American team.
"We're facing many unknowns but we do know they'll be athletic, we know they'll be physical and we know they'll be fast, so we're going to have to go out there and be on top of our game."
PLAYER SPOTLIGHT ?? Scoring her first Test match try, winning a #FarahPalmerCup title for @CRFU and being named in the #BlackFerns Northern Tour squad - what a year 2?0?1?8? has been for Phillipa Love#USAvNZL #TheRugbyWeekend pic.twitter.com/C0WQxedvZf— Black Ferns (@BlackFerns) October 30, 2018
The Black Ferns are expecting a stadium of patriotic Americans in full voice.
"The significance of the occasion isn't lost on us. Playing at Soldier Field in a triple header is very special. But when we're in noisy environments we pretend they are cheering for us, and we just get on with it," Moore said.
Northern Tour
Test match 1:
Soldier Field, Chicago, USA
Saturday 3 November, V USA (with Maori All Blacks v USA and Italy v Ireland)
Kickoff: Noon (4 November, 6am NZT)
Test match 2:
Stade Felix Mayol, Toulon, France
Friday, 9 November V France
Kickoff: 9pm (10 November, 9am NZT)
Test match 3:
Stade des Alpes, Grenoble, France
Saturday, 17 November V France
Kickoff: 2.30pm (18 November, 2.30am NZT)
Broadcasting
All matches will be broadcast live on SKY Sport NZ
Practice makes perfect ???? #USAvNZL #TheRugbyWeekend pic.twitter.com/1qZsRk7KCa— Black Ferns (@BlackFerns) October 31, 2018