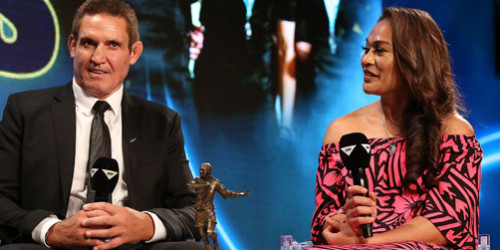 And it wasn't by accident that the announcement of women's rugby future in New Zealand was made at Tamaki College on Wednesday because it is the women's game, and its attraction to younger players, that is providing the fastest growth in New Zealand rugby.
---
QUICK TAP: 2018 BLACK FERNS CONTRACTED SQUAD
---
Last year's World Cup-winning success was achieved against professional opponents and now New Zealand's women will have the chance to play on equal terms.
Benefits in playing opportunities have been seen with the announcement of two Laurie O'Reilly Memorial Trophy Tests against Australia in August, both played prior to the Bledisloe Cup games, and the involvement in the November 3 triple-header in Chicago where the Black Ferns will play the USA Eagles women ahead of the Maori All Blacks game against the USA Eagles and Ireland v Italy.
Other games on the end of year tour will be announced later.
Black Ferns coach Glenn Moore, who is in his fourth year with the side, said it continued to be the goal to grow the brand. They had got themselves to a reasonable position.
"We realise that duplicating what has just happened in the last two years is not going to be good enough to win another World Cup," he said.
A lot of work had gone into selecting the contracted players with discussions and analysis involved in producing a group that was a blend of youth and experience.
"A couple of the younger ones that we have selected, one is still at school and one is just out of school, it is highly likely they will feature at the end of the year. It's been really important that we've got this right," he said.
Women's rugby had advanced a lot and New Zealand had probably helped a lot of that.
"We've introduced a lot of things in how we play, then in the last year leading into the World Cup the English team were totally professional and I think some of the French as well and that has continued to grow over there," he said.

Thank you Tamaki College for hosting today's historic announcement of our first ever contracted squad! pic.twitter.com/MOI4Kx9m6S— Black Ferns (@BlackFerns) May 23, 2018
Making the announcement at a secondary school was a way of getting the message across about the career aspirations that are available to young women.
"If you've got the aspiration to be an international sportsperson whereby you can be remunerated for playing the game then it starts now, the world is your oyster and it will take a lot of hard work and a lot of commitment and we're seeing a lot of talent as we're travelling around looking," he said.
World Cup-winning captain Fiao'o Faamausili, who has put off her retirement, said her body had been gone after the World Cup and she knew it was her time to retire.
But having had time to reflect on her decision over the summer she was still training as if she was in the team and following some conversations with Moore she was aboard to help develop the Black Ferns' legacy and introduce it to the new era in the game.
"I'm excited to be here and to give it another year. It is a new era but we are still going to make sure we bring our old legacy through. Yes, the girls are getting paid but we are still going to make sure we are in it for that jersey and that we are passionate about that black jersey," she said.
"We know we've got a few new caps and for them to play their first game whether it is on home soil or overseas, you know the Black Ferns have never played in America so that is very exciting for the girls. So to have a massive crowd for the triple header and to be the opening match that is going to be massive," she said.
?? 28 awesome Black Ferns have been offered professional contracts!

FULL LIST: https://t.co/1Yh2c3wfEE#BlackFerns #GrowTheGame pic.twitter.com/LwGpbFJgR1— Black Ferns (@BlackFerns) May 23, 2018