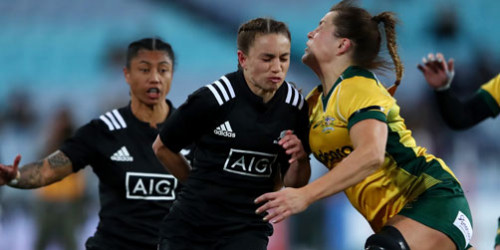 Coach Glenn Moore felt the Wallaroos had put the Black Ferns under defensive pressure and would want to build on that. The Black Ferns had done a lot of work around that and had identified some opportunities that they hadn't seen at the time.
---
QUICK TAP: EDEN PARK SOLD OUT FOR DOUBLE HEADER
---
"We've been training with that. We'll be prepared. They'll obviously do a bit of work around trying to stop driving mauls which I would expect. We've done other work around that area as well," he said.
The Black Ferns had been rusty in their efforts to play expansively and they were looking at polishing that aspect of their game under pressure at training.
"I'm confident by game day that we'll have a bit more accuracy but you also can't under-estimate the heat that the Australian team brought to the game, we thought that would happen and we had to make adjustments," he said.
The brand of rugby the Black Ferns were trying to play was exciting and they had feedback that people were enjoying that and he hoped people would get to Eden Park and enjoy it on Saturday.
There was excitement in getting to play at home, there was interest in the side and how women's rugby had evolved in the last 12 months, he said.
While there had been some concern that the Black Ferns had been denied the chance to warm up on ANZ Stadium before the game, Moore said there were always issues that players had to cope with and they had managed that well. The New Zealand side had parked it and were looking ahead to Saturday.
Fullback Selica Winiata said the women's game was exciting, especially with the momentum from winning the last World Cup.
While there was increased pressure on the side, they used it as motivation and that helped in their training and working towards what they were trying to achieve.
"When we come off the [training] field at the end of the day we want to be happy with what we're putting out there because come game day you want to be relaxed and composed and so far the girls are looking really good," she said.
Having come off club rugby ahead of the first Test, Winiata said there were times in Sydney when their alignment wasn't there and there were issues with their catch-pass but they were all issues they could work on, and had been working on, during the week.
"It's just about polishing those small little areas up and hoping then to be able to put that out on the field on Saturday," she said.
Australia had come out firing in the first Test, they had 13 new caps in the side, and were determined to do well at home. The Black Ferns didn't take them lightly and they were expecting Australia to come out hard again. Having close matches between the sides would be better for everyone, she said.

The @AllBlacks and #BlackFerns spent their evening inspiring the next generation of rugby players with a skills and drills session at College Rifles Rugby Club thanks to #TeamAllBlacks pic.twitter.com/B62lU8aMpW— Black Ferns (@BlackFerns) August 20, 2018