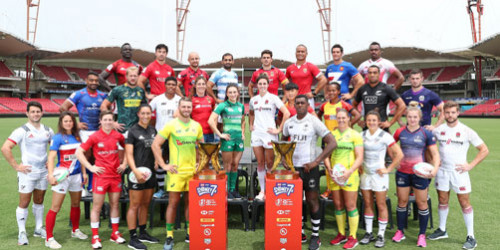 New Zealand lead the competition after wins at Glendale in the United States and at Dubai in the first two tournaments of the series and warmed up by winning the Fast Four tournament in Hamilton last weekend.
---
They will be looking to take their sixth successive tournament on the road in Sydney at the new venue at Spotless Stadium in the Sydney Olympic Park complex.
Hirini told allblacks.com "I've been tracking really well and just making sure I've been doing all the little stuff right and recovering well. I've been with the physio quite a lot and we're on track for this weekend."
The changed venue for the weekend at Spotless Stadium was smaller than Allianz Stadium but that was great and would help make the crowd a little more intense which was something the players enjoyed in Sydney, she said.
"Not many people in the crowd are supporting us but it's also nice that we're able to have a lot of families come over and support us and come to the stadium as well."
There was an extra incentive for the side given past disappointments in Sydney.
"We've had a couple of losses and we've never been able to win this title so we're coming out here and hoping to take that trophy home and also continue on the success we've had at the previous tournaments in the series," she said.
While they enjoyed the home support in the Fast Four tournament in Hamilton, run in conjunction with the men's sevens, they would not have the crowd with them this time, but they enjoyed that because it added to the excitement of the competition.
"We just hope we can come out here and do our jerseys and our families proud and I don't think we did that in the final last year. If it wasn't for that final we wouldn't have had the success we [subsequently] had.
"As much as it sucked at the time, we've been able to grow from that and have had some great development."
To avoid that happening again, they would be looking to dominate their starts from the pool matches through to the playoffs.
"It's tough, we've got France, England and Papua New Guinea, three teams that are talented, they're really tough to play against, especially in pool matches where sometimes you want to trial things. Whether we can do that I'm not sure but it will be a great weekend regardless and I can't wait to get out there," she said.
The Black Ferns play their first game at 3.06pm (NZT) on Friday and then meet France at 5.50pm and England at 8.34pm. Quarterfinals are played on Saturday afternoon and the semifinals and final on Sunday.
Here's how pool play shapes up for the #BlackFerns7s this Friday:

3.06pm NZT v Papua New Guinea ????
5.50pm NZT v France ????
8.34pm NZT v England ??????????????#Sydney7s pic.twitter.com/QBp2rSxUNI— Black Ferns (@BlackFerns) January 30, 2019