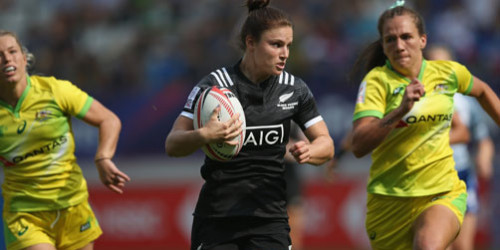 The Olympic champions have been on the receiving end of the New Zealanders' power in their most recent contests, in Langford and Paris in the HSBC World Series and the Commonwealth Games final on the Gold Coast.
---
PLAYER SPOTLIGHT: BRAZIER EYES ANOTHER PRIZE WITH BLACK FERNS SEVENS
---
Strengthened by the return of Ellia Green, Alicia Quirk and Sharni Williams, the Australians are looking to bounce back and repeat their successes at Dubai and Sydney which saw them take out the overall World Series by two points from New Zealand.
Australian co-captain Shannon Parry told rugby.com.au, "Against New Zealand it's obviously crucial at the breakdown – they get a lot of turnovers there.
"For us, it's about being able to control the ball in attack and being more connected in defence so their steppers can't really step and get around us.
"We've changed a few things up and had a solid three weeks at home which has been really good for us.
"Johnny [coach John Manenti] has been able to implement change which has been positive and all the girls have grasped that. We're looking forward to putting that in place at the World Cup," she said.
Having Green, Quirk and Williams on board for San Francisco was vital for Australia because of their skills that would be essential in pushing New Zealand should they meet in the final.
"They're three big assets coming back for us this World Cup campaign and I can't wait to get back on the field with them."
WATCH ?? #RWC7s fever is heating up as the @SFGiants welcomed both the #BlackFerns7s and @AllBlacks7s pitch-side at AT&T Park - home to next week's tournament. pic.twitter.com/Iw2wFLc64B— Black Ferns (@BlackFerns) July 15, 2018
"Obviously Ellia Green on the wing – you know what she is going to bring," Parry said.
"Alicia Quirk is our conductor in the centre of the field and that has been a bit of a missing link.
"We've had Emma Sykes fill those shoes very well, Page McGregor as well, then Sharni brings a bit of muscle back into the forward pack," she said.
Manenti said the returning trio would make a major difference to the side.
"There's no question that bringing three world-class players into the mix will help," he said.
"Nobody likes coming second and effectively that's what we did a couple of times there, but it wasn't so long ago that we were on the other side of the coin.
"Until you get to the heat of the battle, it's hard to know but we've certainly made plans around it.
"We've got some really good plans around what to do should we get that far in the tournament [and] should we get to play each other," Manenti said of the prospective clash against New Zealand.
Great to be joined by the @AllBlacks7s and @BlackFerns Sevens at the AIG Rugby Family Day in San Francisco today! #RWC7s pic.twitter.com/j76DcoCykX— AIG Rugby (@AIGRugby) July 14, 2018