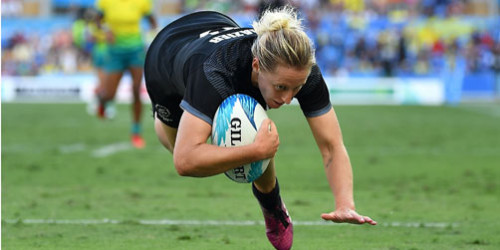 As if her playing reputation was not already secure in the record books of the women's game, her blazing run from her own 22m area to the goalline for the match-winning try over Australia [pictured] in the final of the Commonwealth Games women's sevens on the Gold Coast ensured that.
---
QUICK TAP: BLACK FERNS SEVENS BREAKDOWN PLAY TARGETED
---
Nowadays, instant recognition that has tended to be the lot of male counterparts achieving All Blacks status, has occurred for her, especially in the days and weeks after her return from the Gold Coast.
But she is not alone in achieving that social awareness as women's rugby has exploded in growth, now enjoying professional status in both the XVs and Sevens versions of the game.
The latest prize beckoning for the Black Ferns Sevens will be the World Cup in San Francisco being contested at the weekend and which the New Zealanders will be defending.
She was also part of the Black Ferns side who won the World Cup in XVs last year in Ireland, her second World Cup success after the 2010 event in England, and she has 37 Test caps while is third highest on the Test points scoring list for the team with 175 points.
With so much happening it is not surprising that she can reflect on what she called 'a massive year'.
"I guess it goes back to when the [HSBC World Sevens] series started in Dubai when we didn't have the flashest of starts but then we came off the back of three tournament wins, we had a Comm Games and now the World Cup, you could say it has been pretty hectic and busy. But it's been fun," she told allblacks.com.
Part of that fun has been contributing to the mushrooming growth in the women's game with all its opportunities and career paths.

WATCH ?? #RWC7s fever is heating up as the @SFGiants welcomed both the #BlackFerns7s and @AllBlacks7s pitch-side at AT&T Park - home to next week's tournament. pic.twitter.com/Iw2wFLc64B— Black Ferns (@BlackFerns) July 15, 2018
"It's gone really crazy. We've got all but three of the women's players based in the Mount [Manganui]. I believe that has made our team take massive strides forwards and it is something we needed to do to keep competing with the other countries that are all centralised around the world," she said.
For all that, when starting out as a young player, first making her mark in Dunedin, she didn't imagine the women's game would advance at the pace it has.
"I can remember sort of being young and there only being the Black Ferns to aspire to. There was no pathway, no age group and to now think there is Under-16, Under-18, we have Condors tournaments throughout New Zealand and to now think I am a paid fulltime Sevens athlete. I've been to World Cups, I've been to Commonwealth Games, I've been to Olympics and I guess to be able to train day-in, day-out I don't think I ever thought I would be able to do that for a living," she said.
What all the progress in the game has done is open up career paths. Women's referees are already making their presence felt and as time advanced coaching opportunities would also grow.
"There are already some women who have gone onto the coaching path, the likes of Victoria Grant and Teresa Te Tamaki, who are both former Black Ferns, who are coaching representative sides and Victoria Grant is the coach of the youth team going to the Olympics. So it is pretty cool the pathways there are for women and hopefully they are encouraged to keep going and hopefully there will be more coaches out there in the years to come," she said.
Brazier said she, as part of her player development, was helping coach the Bay of Plenty Under-15 team while working on getting her coaching papers done and coaching was something she wanted to do after her playing career was over.
"If I compare to when I was back at high school there was only a handful of girls playing and the feeling was rugby was a bit rough or 'it's for boys' kind of thing and now, I was in the Bay the other day and the school teams came in and there were about 25-30 girls in each team and so it is massive. The opportunities are endless and it is steering girls to play rugby on the backs of the Black Ferns' and Black Ferns Sevens' success and exposure and now that it is a fulltime programme girls are wanting to get amongst it and play it which is pretty cool."
Now the quest is to add to that exposure in San Francisco in the tough, uncompromising programme being used for the first time this year – a straight knockout tournament.

Great to be joined by the @AllBlacks7s and @BlackFerns Sevens at the AIG Rugby Family Day in San Francisco today! #RWC7s pic.twitter.com/j76DcoCykX— AIG Rugby (@AIGRugby) July 14, 2018
"You've got no lifeline, it's do-or-die but every time we're in the World Series we play like that. We never go out to lose, we always go out to win every single game even though in the World Series in pool play you could potentially drop a game and still go through so our mindset is no different.
"I guess there's just that little bit of added pressure that if you do lose you're out, so we just have to make sure that as soon as that whistle goes we're ready to go. There's no second chance," she said.
The side has experience in American cities in Houston, Atlanta and Las Vegas, so San Francisco is something a little different for them. The World Cup is being played at A&T Park which is a massive stadium, and everything else associated with San Francisco and they are expecting it to be an exciting event.
"You can't write any team off, you've probably seen that in the series so far this year. We've seen the likes of Spain beat Australia, Ireland are coming through and you can't take any team lightly. For us our main focus is that we worry about ourselves and our game because that is all that we can control and if we do that and everyone plays to their potential and that sort of thing then normally the result sort of takes care of itself.
The benefits for both New Zealand and Australia having played such a high-pressure game as that in the Commonwealth Games final was huge.
"You can't really coach pressure or do pressure situations. It's just experience and being in the moment. We've got pretty much the same team bar one. We've done a lot of mind work with our pysch coach so that should stand us in good stead and steer us well going into this World Cup.
Only their first opponent is unknown to them.
"We have Mexico first up so we have to be ready for anything with them then hopefully if we move forward we play the likes of USA, France, those types of teams.
"They're all teams that are pretty physical, they try to beat us in the battle of the contact and they're sides that even if they are down they never give up so you've definitely got to be on top of your game.
"For us it's about holding onto the ball and just being patient and usually if we do that we execute our game plan pretty well and that normally results in a win for us so we'll be going out to do our best to hold onto the ball," she said.
WATCH ?? Prior to departing New Zealand, the #AllBlacks7s and @BlackFerns Sevens stopped by the Official All Blacks Store to say goodbye to friends, family and fans! #RWC7s pic.twitter.com/K5StiJbTDx— All Blacks Sevens (@AllBlacks7s) July 14, 2018