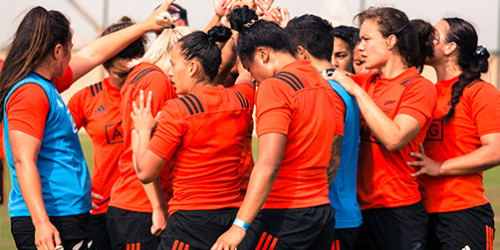 The team is;
1. Ruby Tui
2. Shakira Baker
3. Stacey Waaka
4. Terina Te Tamaki
5. Sarah Goss – captain
6. Michaela Blyde
7. Tyla Nathan-Wong
8. Kelly Brazier
9. Gayle Broughton
10. Theresa Fitzpatrick
11. Risi Pouri-Lane
12. Alena Saili
*Kat Whata-Simpkins is the travelling reserve.
Youth Olympic Games gold-medal winning captain Risi Pouri-Lane will make her Black Ferns Sevens debut. Bunting said Pouri-Lane has made great progress in her first year in the contracted squad.
"Risi is ready to go. She has had a great build up with the Youth Olympic Games win; there is no pressure on her at all, now its about going out there and enjoying the experience."
Bunting also paid tribute to Michaela Blyde on being crowned World Rugby Sevens Player of the Year for the second consecutive year, along with nominees Sarah Goss and Portia Woodman.
"It's amazing to have three of our ladies up there who have been performing consistently, not just last year but for the last four or five years. They are going really well, and we are proud of how they represent our country."
In 2017 the Black Ferns Sevens opened the circuit with a fifth place finish in Dubai, the only occasion they missed the Final in the five World Series events.

"We took some vital learnings out of Dubai last year so that is certainly fresh in our mind and we'll remember that when we take the field."
Currently leading the World Series standings after a first round win at the Glendale Sevens, Bunting said the focus is on continual improvement.
"USA was a good start for us but when you win one, every looks at you a bit closer, so we've got to be better this time round."
Editorial Notes

- Risi Pouri-Lane is set to become the 77th Black Ferns Sevens player when she takes the field in Dubai. Pouri-Lane hails from Motueka and earlier this week was named Junior Sportswoman of the Year at the Nelson Sports Awards.

- Fresh from the World Rugby Awards, Michaela Blyde is on track for another milestone, sitting on 96 World Series tries, she could become just the fifth women's player to record a century of tries.
- The Black Ferns Sevens team has won the Dubai tournament on three occasions (2012, 2014 and 2016), finishing fifth twice and runners-up once.
Putting in the mahi, as the #BlackFerns7s get closer to kick off

THURSDAY:
10.50pm NZT v Kenya ????

FRIDAY:
1.46am NZT v Russia ????
4.43am NZT v Ireland ???? #Dubai7s pic.twitter.com/kr90pBGdVp— Black Ferns (@BlackFerns) November 27, 2018
Schedule:
Day One – Thursday 29 November
1.50pm v Kenya (10.50pm Thursday NZT)
4.46pm v Russia (1.46am Friday NZT)
7.43pm v Ireland (4.43am Friday NZT)
Day Two – Friday 30 November
Play offs

Broadcast
Watch Day One of the Dubai Sevens on World Rugby Sevens facebook page

Black Ferns Sevens 2018-2019 schedule
HSBC World Rugby Sevens Series, 20-21 October, Glendale - WINNERS
HSBC World Rugby Sevens Series, 29-30 November, Dubai
Fast Four tournament, 26-27 January, Hamilton
HSBC World Rugby Sevens Series, 1-3 February, Sydney
HSBC World Rugby Sevens Series, 20-21 April, Kitakyushu
HSBC World Rugby Sevens Series, 11-12 May, Langford
HSBC World Rugby Sevens Series, 31 June - 2 July, Paris

Yoga, puns and a tribute to Niall Williams - all that could mean is @RubyTui from the #BlackFerns7s is back with another episode of #RoomRaiders#Dubai7s pic.twitter.com/FAzXULPHjN— Black Ferns (@BlackFerns) November 26, 2018