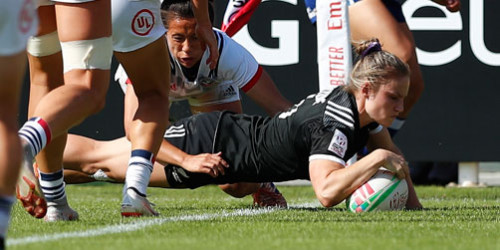 For all their achievements, the Black Ferns Sevens have still to play in front of their home crowd and that chance has arisen with the Fast Four tournament being organised in conjunction with the third round of the men's HSBC World Series in Hamilton.
---
It will also serve as preparation for the four competing sides for the Sydney Sevens being held a week later on February 1-3.
Coach Alan Bunting acknowledged the significance of the occasion when saying, "It will be our first time playing in front of a home crowd and an opportunity to inspire New Zealanders.
"As a team we talk about leaving mana in our wake – what better place to do that than here at home?" he said.
The Black Ferns Sevens will play their opening game, against England, at 1.26pm on Saturday and will then play France at 5.10pm, a repeat of last year's World Cup final in San Francisco, with their final preliminary game against China at 2.42pm on Sunday.
The women's playoff for third at fourth will be played at 6.48pm, after the men's bronze medal game, while the women's final will be played at 7.10pm, just before the men's final at 8.10pm.
Bunting said playing in the Hamilton tournament will be the perfect way to kick off the Black Ferns Sevens' 2019 year.
"We are lucky to travel to some amazing places around the world but nothing compares with home and the team can't wait to wear the black jersey on home soil, in front of their family and friends," he said.
Bunting said some good sevens would be on offer with France the beaten World Cup finalists, England a traditionally strong unit while China were emerging as an exciting side.
Captain Sarah Goss said the tournament was an incentive to work harder in preparation because they would be playing in front of family and friends who often were the side's biggest critics.
"For us, just to be playing at home is massive. We haven't done that in the six years we've had a team," she said.
The Fast Four tournament was a start and Goss was hopeful it would get bigger with the end result being a round of the women's World Series in New Zealand.