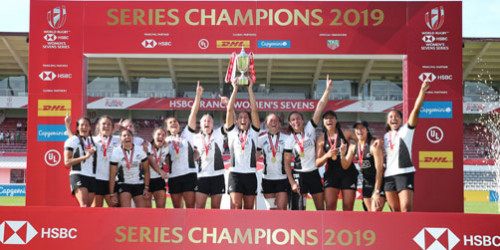 The 26-10 win by the USA was their first Cup title in the Sevens series.
New Zealand had confirmed their season winning effort – their fifth in seven years – when beating China in their quarterfinal. They ended with 110 points while the USA finished with 100 and Canada was third with 94 points. Australia was fourth with 86 points. Those four countries and Japan have all secured places in next year's Olympic Games.
---
QUICK TAP: NEW ZEALAND U20 NAMED FOR WALES CLASH
---
New Zealand captain Sarah Hirini had a personal milestone when playing in the 21-12 semifinal win over Canada. She became the first to play 200 games in the women's series.
She said after the final: "This is a quality USA team and the few basic errors we made proved very costly. I'd be lying if I said it didn't hurt but we've now got to celebrate a world series win which was the goal of ours from the start of the season.
"USA are one of our rivals but the top six teams on the series are tough at any time. They've been there or thereabouts this season so they deserve a Cup title. They played their hearts out this weekend.
"It's been an awesome 12 months. It's been challenging at times as we've been through a lot of adversity back home but we've used most of the girls on our roster and that's a huge testament to those girls.
"We're pretty happy to be bringing home a series title – our fifth in seven years," she said.
?? @Sgoss10 makes history becoming the first female player to notch up 200 matches on the @WorldRugby7s Series. Hear what she had to say after the match. #BiarritzSevens pic.twitter.com/0vSSm1Eet9— Black Ferns (@BlackFerns) June 16, 2019
For the emerging USA team, who went into the Biarritz tournament with a chance of toppling New Zealand in the overall race, they took second place overall with an impressive finals display.
American Alev Kelter opened the scoring with a sideline dash for a try and then she managed a turnover to stymie a sidestepping break made by Kelly Brazier which led to Cheta Emba scoring the USA's second try.
New Zealand responded when Ruby Tui broke from the base of a ruck and scored in the corner, although Kelter's tackle meant the TMO was needed to see if the try had been made.
But from the restart Emba and Kelter combined for the latter to beat the New Zealand defence before sprinting 70m to score again. The USA led 19-5 at halftime.
New Zealand's cause wasn't helped early in the second half when Michaela Blyde was sin-binned for a deliberate knockdown before America's Lauren Doyle cross for their fourth try from the penalty.
Shakira Baker managed a consolation try for the Black Ferns but there was no denying the Americans.
Earlier, in their quarterfinal, New Zealand held a lively China side scoreless and that was enough to see China drop out of the core teams who will contest next season's series. Fiji headed China on points differential to claim the regular slot.
200 @WorldRugby7s matches for @Sgoss10.

A true leader on and off the field.

Congratulations! pic.twitter.com/pIvYpygGJO— Black Ferns (@BlackFerns) June 16, 2019
New Zealand's speed merchants Blyde and Alena Saili gave them a 19-0 half time lead with Blyde completing a hat-trick early in the second half with Terina Te Tamaki and Tui adding tries in the 36-0 win.
That left New Zealand facing Canada in the semi-final, a side they had beaten in their nine previous meetings.
Saili and Tyla Nathan-Wong scored tries early in the game before Canada got one back through Karen Paquin. But Tui crossed again before Charity Williams scored the last try of the game as New Zealand won 21-12.
Assistant coach Cory Sweeney said the side was disappointed not to finish the way they wanted although they were proud of their series success.
"It has been a long season and a really pleasing element is the number of players we have developed on the World Series and that have gained finals experience. That will prove to be invaluable going into an Olympic year.
"We came into this season with two big goals, to qualify for the Olympics and win the series so it's great to achieve that," he said.
Across the season Blyde scored 30 tries to finish third on the try-scoring list for the season. Captain Hirini was 12th equal on 17 tries while Tui and Baker scored 15 tries each.
Nathan-Wong finished top of the individual points scoring list with 207 points while Blyde was fifth on 150 as a result of her try-scoring haul.
New Zealand totalled most points in the series with 1019 while Australia were second with 893, Canada third with 760 and the United States fourth with 715.
??? Foot on the gas - @BlydeMichaela has pace for days!!#BiarritzSevens pic.twitter.com/f9hAc5ldEx— World Rugby Sevens (@WorldRugby7s) June 16, 2019