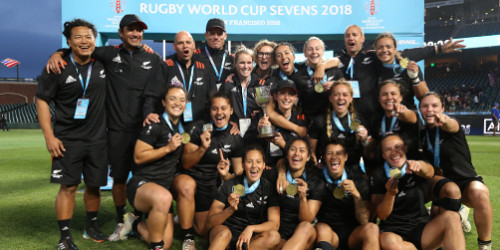 New Zealand Rugby announced today the Black Ferns Sevens will play France, China and England during the New Zealand leg of the HSBC World Rugby Sevens Series on January 26-27 next year.
---
QUICK TAP: BLACK FERNS RETAIN LAURIE O'REILLY TROPHY
---
Black Ferns Sevens stars Sarah Goss, Portia Woodman and Kelly Brazier were at Hamilton Girls High School to celebrate the first time a women's international tournament has been integrated into the annual event.
Black Ferns Sevens captain Goss said playing at home in front of fans, friends, family and aspiring young New Zealand sportswoman would be a special occasion for the team.
"We get to play in some amazing places around the world but nothing will beat playing at home in front of a full stadium. It will be a great opportunity to wear the black jersey in front of our families, friends and incredible fans at a great event.
"Hosting France, England and China will be an exciting tournament; they are all tough opponents so we won't be taking anything for granted."
The Fast Four format will see each women's team play four matches in Hamilton, including three pool matches. The top two teams will play off in a gold medal match, with the bottom two playing for bronze.
The bronze final and gold medal match will be played directly before the men's Cup final in what will be a thrilling finish to two days of Sevens.
HSBC New Zealand Sevens Tournament General Manager Steve Dunbar said confirmation of the women's tournament was another historic moment for women's rugby and a major boost for Sevens fans.
"We are excited to be hosting the first international women's Sevens tournament to be played in New Zealand and I know fans will be thrilled to have the chance to cheer on the Black Ferns Sevens at home.
"The recent World Cup showcased the incredible skill, speed and excitement of women's Sevens and fans can't get enough. Adding a women's tournament to our Hamilton event alongside the men's tournament takes the HSBC New Zealand Sevens to another level."
How good was the #nzsevens in Hamilton? Will you be there next year? pic.twitter.com/M6hOxokWct— HSBC NZ Sevens (@NZ_Sevens) February 12, 2018
Although the Black Ferns Sevens team has previously played exhibition matches in New Zealand, the 2019 HSBC New Zealand Sevens will be the first time the team has competed in an international tournament on home turf.
Dunbar praised World Rugby for supporting the Fast Four tournament concept and was confident Hamilton would be able to host a fully integrated men's and women's leg of the HSBC Rugby World Sevens Series in the future.
37South Managing Director and tournament co-promoter Dallas Fisher said having the Black Ferns Sevens in Hamilton was a coup for the city.
"I have no doubt the city will welcome the Black Ferns Sevens squad with open arms, but the real winners are the fans who will get the chance to watch some of New Zealand's most entertaining and skilful athletes in action."
3? @WorldRugby7s Tournament wins ??
1? Commonwealth Games medal ??
1? #RWC7s title ??

From all of us at the #BlackFerns7s, thank you for all your support in 2?0?1?8? and we'll see you next season! pic.twitter.com/RNi9dolxI1— Black Ferns (@BlackFerns) July 22, 2018