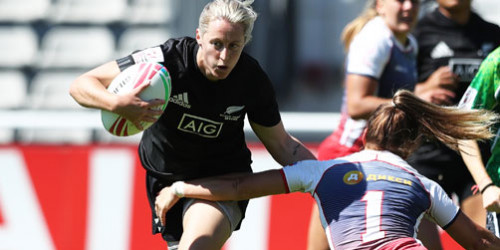 A victory in the quarterfinal against China will wrap up the title with two games to spare in final tournament of the 2018/19 series.
---
QUICK TAP: QUEEN'S BIRTHDAY HONOUR FOR SARAH HIRINI
---
They beat Scotland, a team playing in the event for the first time 44-7, Russia 31-0 and England 27-14 and will meet China in their quarterfinal at 10.06pm on Sunday evening (NZT).
Coach Cory Sweeney said: "I think we started really well today and Scotland, we knew they were going to bring a few surprises and they did.
"They've got a good side there and given time they're a side that will challenge a few teams on the World Series. We had a good start against them and we progressed through the day really well.
"We've been working really hard on a couple of aspects of our defence and I think that all came into play in that Russia game and to hold them to nil was awesome."
England, in the final game had a new look due to injuries that had depleted the experience available to their side. They had earlier been held to a draw by Scotland.
"The girls knew it was game three and we needed to make sure that we finished the day really well. There were a couple of little inaccuracies in that game. We're really happy with day one but we know that day one only sets yourself up for day two.
"We know we've got to recover really well tonight and turn up for a big day tomorrow.
"We got three quality performances today. We know it's our last tournament, we've got a lot to play for and we're making sure that we take it moment by moment and I think we've achieved that today," he said.
REACTION: @BlackFerns captain Sarah Hirini (@Sgoss10) on the challenges of day one and enjoying facing a new team in @Scotlandteam at the #BiarritzSevens pic.twitter.com/e8hVZyQ50z— World Rugby Sevens (@WorldRugby7s) June 15, 2019
The effort by the full squad had been impressive and demonstrated how good the side was.
"It doesn't matter who is on the field, they all can step up at the moment and play really well and play as a team and it showed today," he said.
An important part of that was having players coming on as substitutes to add impact and that had been achieved on day one.
It took New Zealand only 38 seconds to open their scoring in their first game against Scotland. Dhys Faleafaga got a back of the hand offload to Ruby Tui on the wing and she was unhindered on her run to the line.
Michaela Blyde followed that when given a gap on halfway and her speed was too much for the defence. Scotland responded when good support play produced a try for Rhona Lloyd but the Black Ferns replied with Faleafaga in action again in beating two defenders before finding Sarah Hirini who put Tyla Nathan-Wong through.
New Zealand's passing ability in midfield created another chance. Hirini was in wide open space and while Kelly Brazier was taken by the Scottish cover, she left the ball well placed in the tackle and Blyde picked it up to score.
A tap penalty by Hirini gave Brazier another chance and she scored while a Theresa Fitzpatrick offload produced a try for Alena Saili. Shakira Baker then capitalised on good work by Brazier to end with a 44-7 win.
Russia looked to make a flying start against the Black Ferns and while Daria Noritsina got over the line Blyde managed to get an arm under the ball to deny the try.
Russia came back and looked another chance to score only to lose the ball. Tui found some space and passed to Faleafaga who had a long run in to open the scoring. Niall Williams followed that with an inside ball to Tui who scored.
Brazier opened up the Russian defence with some clever footwork before passing on to Tui. She got the ball to Baker who completed the action. An orthodox passing movement resulted in Saili scoring and then Baker got around a defender to complete a 31-0 win.
New Zealand opened the scoring in their final game, against England, when consistent team work created a chance for Saili which she took.
But Heather Fisher found a way through two New Zealand tackles in the midfield to get over for England, who claimed a 7-5 lead.
Calm build-up play saw New Zealand work their way into a good position and when the ball was moved it was Saili who scored again.
An earlier injury concern for Blyde looked to be causing her no problems as she put ran hard onto a pass from Williams to clear out from the defence to score. A Baker turnover created the next try as she scored in the corner.
Baker scored New Zealand's last when the defence descended on Brazier only for her offload to Baker produce a try with ease.
England scored off a Fisher turnover when Ellie Kildunne scored.
Captain Hirini said it had been a good day because not only did they manage some good wins but they had been tested in some areas which was of value heading into the second day.
"We've still got a lot to work on for day two and we really want to come out firing in the quarterfinal," she said.
The Black Ferns Sevens take on China in the Cup quarterfinal at 10.06pm NZT Sunday.
Your Cup quarter-finals are...

???? vs ????
???? vs ????
???? vs ????
???? vs ????

Care to call them now? #BiarritzSevens pic.twitter.com/UHsrAMODtz— World Rugby Sevens (@WorldRugby7s) June 15, 2019