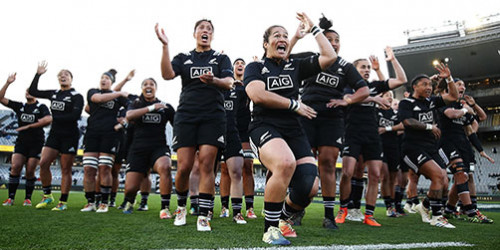 The Black Ferns squad to tour the USA and France is (Test caps in brackets. * New cap):
FORWARDS
Eloise Blackwell (34) Auckland
Les Elder (nee Ketu) (11) Bay of Plenty
Fiao'o Faamausili (54) (captain) Auckland
Aldora Itunu (17) Auckland
Linda Itunu (37) Auckland
Pip Love (4) Canterbury
Charmaine McMenamin (16) Auckland
Aleisha Nelson (26) Auckland
Joanah Ngan-Woo* Wellington
Te Kura Ngata-Aerengamate (22) Counties Manukau
Marcelle Parkes* Wellington
Jackie Patea-Fereti (14) Wellington
Leilani Perese (2) Counties Manukau
Aroha Savage (30) Counties Manukau
Charmaine Smith (18) Auckland
Cristo Tofa (2) North Harbour
BACKS
Chelsea Alley (17) Waikato
Kendra Cocksedge (44) (vc) Canterbury
Krysten Cottrell (2) Hawke's Bay
Kiritapu Demant (2) Auckland
Ruahei Demant (2) Auckland
Ayesha Leti-I'iga* Wellington
Kilisitina Moata'ane* Otago
Natahlia Moors* Auckland
Kristina Sue (12) Manawatu
Monica Tagoai* Wellington
Stacey Waaka (13) Waikato
Renee Wickliffe (32) Bay of Plenty
Selica Winiata (33) (vc) Manawatu
Exciting young backs Ayesha Leti-I'iga (Wellington), Kilisitina Moata'ane (Otago) and Natahlia Moors (Auckland) received the call-up from Moore following stellar Farah Palmer Cup seasons.
Moore said the trio possessed everything a coach wanted in a back; explosive speed, tenacity and great footwork.
"They've all stood out in the FPC and all three players deserve their selection. This trio will add a lot of firepower to our backline and I'm looking forward to seeing what they can achieve in the Black Ferns environment."
Nineteen-year-old Wellington Pride wing Leti-I'iga has scored a combined total of 52 tries for her club and province this year, including 11 tries in the 2018 Farah Palmer Cup.
Moore said Moata'ane had impressed selectors with her determination to come back from injury after being in national development squads in 2017 and 2018.
Moors is a specialist wing and currently in the Black Ferns Sevens wider training squad.
Also in line to make their Black Fern debut are Joanah Ngan-Woo, Marcelle Parkes and Monica Tagoai who were all part of the squad for the two-Test series against Australia.
Black Ferns Sevens players Theresa Fitzpatrick and Alena Saili were unavailable for selection due to Black Ferns Sevens commitments, but Stacey Waaka was included in Moore's 15s team as a utility back.
"We are thrilled to have Stacey with us. She is a fantastic athlete who always makes an impact on the field and thrives in our environment."
Aside from the newcomers, Moore and his selectors have retained the players who were part of the squad who successfully retained the Laurie O'Reilly Memorial Trophy in their August Tests against Australia.
Fiao'o Faamausili, the most-capped Black Fern (54 caps) will captain the side and Selica Winiata (33 caps) and Kendra Cocksedge (44 caps) have been named as co-vice captains.
The squad also includes experienced loose forwards Linda Itunu (37 caps) and Aroha Savage (30 caps), along with Bay of Plenty wing Renee Wickcliffe (32 caps).
"We are continuing our strategy of including a mix of experienced and new players. We want to give younger players an opportunity to be in the Black Ferns environment and develop their skills so by the time the 2021 World Cup comes around we have a broad base of outstanding athletes to select from."
Moore said his squad were excited about the prospect of playing the USA at Soldier Field in Chicago as part of a triple header which includes Tests between the Maori All Blacks and the USA and Ireland against Italy.
"We last played the USA in a World Cup semi-final last year and they are a very fit and fast team. Playing them in a venue like that on their home turf will be a fantastic experience. To be on the other side of the world with the Maori All Blacks makes it all the more special for us."
Northern Tour
Test match 1:
Soldier Field, Chicago, USA
Saturday 3 November,
V USA (with Maori All Blacks v USA and Italy v Ireland)
Kickoff: 12pm
(Sunday 4 November 6:00am NZT)
Test match 2:
Stade Felix Mayol, Toulon, France
Friday 9 November
V France
Kickoff: 9pm
(Saturday 10 November 9am NZT)
Test match 3:
Stade des Alpes, Grenoble, France
Saturday 17 November
V France
Kickoff: 2.30pm
(Sunday 18 November 2.30am NZT)