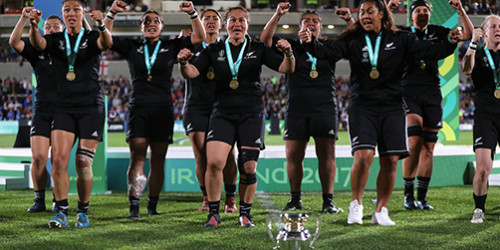 Faamausili is the most-capped Black Fern (52) and is a five-time Women's Rugby World Cup veteran. Selica Winiata (31) and Kendra Cocksedge(42) have been named as co-vice captains.
---
QUICK TAP: TEN GREAT MOMENTS IN BLACK FERNS HISTORY
---
Black Ferns Head Coach Glenn Moore has ushered in four new backs and four new forwards to a 28-strong squad to play in matches that will anchor two huge double headers with the All Blacks' Bledisloe Cup matches against Australia in Sydney and Auckland.

The Black Ferns will get their first opportunity for a hit-out in a warm up Game of Three Halves against Bay of Plenty Volcanix and Auckland Storm in Tauranga next month.

The new caps are Krysten Cottrell (Hawke's Bay), Ruahei Demant (Auckland), Alena Saili (Southland), and Monica Tagoai (Wellington) in the backs, and Joanah Ngan-Woo, Marcelle Parkes (both Wellington), Leilani Perese (Counties Manukau) and Cristo Tofa (North Harbour) in the forwards.

The 2018 squad is (Test caps in brackets, new caps in bold):

FORWARDS
Eloise Blackwell (32) - Auckland
Les Elder (nee Ketu) (9) - Bay of Plenty
Fiao'o Faamausili (52) (captain) - Auckland
Aldora Itunu (15) - Auckland
Linda Itunu (35) - Auckland
Pip Love (2) - Canterbury
Charmaine McMenamin (14) - Auckland
Aleisha Nelson (26) - Auckland
Joanah Ngan-Woo - Wellington
Te Kura Ngata-Aerengamate (20) - Counties Manukau
Marcelle Parkes - Wellington
Jackie Patea-Fereti (12) - Wellington
Leilani Perese - Counties Manukau
Aroha Savage (28) - Counties Manukau
Charmaine Smith (16) - Auckland
Cristo Tofa - North Harbour
BACKS
Chelsea Alley (15) - Waikato
Kendra Cocksedge (42) (vc) - Canterbury
Krysten Cottrell - Hawke's Bay
Kiritapu Demant (2) - Auckland
Ruahei Demant - Auckland
Theresa Fitzpatrick (7) - Auckland
Alena Saili - Southland
Kristina Sue (10) - Manawatu
Monica Tagoai - Wellington
Stacey Waaka (11) - Waikato
Renee Wickliffe (30) - Bay of Plenty
Selica Winiata (31) (vc) - Manawatu
* Not considered due to injury: Toka Natua (Waikato), Victoria Subritzky-Nafatali (Counties Manukau).

Moore said the depth of his squad meant the selectors would have some tough decisions to make ahead of the Test season.

"We have a great mix of youth and experience with 17 players from the 2017 World Cup winning squad and eight very exciting newcomers. They have been working hard in their clubs and provinces to secure a spot in this squad and we've seen some real progress in skill level and fitness since last year's World Cup. The motivation to be selected has been obvious."

Parkes' selection completes a meteoric rise for the 20-year-old. Parkes had already represented New Zealand in softball and netball before her impressive Sevens debut for Wellington led to her securing a Black Ferns contract earlier this year.

"Marcelle is an exceptional athlete and deserves her spot. We're looking forward to seeing what she can achieve in a Black Ferns jersey. She is definitely one to watch," Moore said.
Ruahei joins her younger sister Kiritapu in the squad after overcoming a series of serious knee injuries. Kiritapu debuted for the Black Ferns in 2015.
The Demant siblings join the Itunu sisters (Aldora and Linda) in the line-up, and will be the fourth set of sisters to represent the Black Ferns.


Black Ferns Sevens players included
Moore and his selectors named two 2018 Sevens Rugby World Cup players, in Stacey Waaka and Theresa Fitzpatrick, as well as Alena Saili, who is also currently contracted in the Black Ferns Sevens wider squad.

Saili secured a sevens contract in her first year out of school and Moore said he was looking forward to seeing what impact she would have in the 15s.
Moore said all three made themselves available for selection with the support of their Sevens coaches.

"We're really pleased to have them as part of our mix, Theresa and Stacey were invaluable in 2017 and we're looking forward to Alena bringing her talent to our squad.

"Black Ferns Sevens Head Coach Allan Bunting and I are in constant contact about the selection and availability of players and the athletes' welfare is always paramount. It's been a massive season for the Black Ferns Sevens, and they are already steadfastly focussed on the Tokyo Olympics.

"Portia [Woodman], Sarah [Goss] and Kelly [Brazier] have decided to concentrate on their World Cup recovery and preparation for Tokyo for the time being and we all support what is best for them," he said.
Black Ferns 2018 schedule:
Game of Three Halves
Tauranga Domain, Tauranga
Saturday 11 August
V Bay of Plenty Volcanix and Auckland Storm
Kickoff: 12pm (NZT)

Laurie O'Reilly Memorial Trophy
ANZ Stadium, Sydney
Saturday 18 August
V Australia (With All Blacks v Australia)
Kickoff: 7.15pm (NZT)
Eden Park, Auckland
Saturday 25 August
V Australia (With All Blacks v Australia)
Kickoff: 5.00pm (NZT)
Northern Tour
Test match 1:
Soldier Field, Chicago, USA
Sunday 4 November,
V USA (with Maori All Blacks v USA and Italy v Ireland)
Kickoff: 6am (NZT)
Test match 2:
Stade Felix Mayol, Toulon, France
Friday 9 November
V France
Kickoff: TBA
Test match 3:
Stade des Alpes, Grenoble, France
Saturday 17 November
V France
Kickoff: TBA

A new season with 1??2??? teams set to light up this years #FarahPalmerCup

Story ?? https://t.co/VyBzB6gffI pic.twitter.com/kAK1apgGSY— Black Ferns (@BlackFerns) July 11, 2018