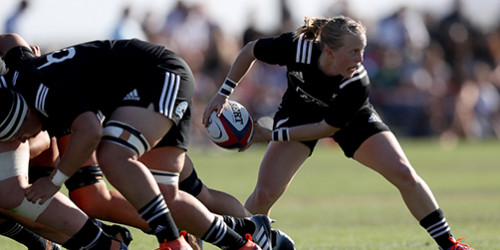 The victory follows France's maiden victory over the Black Ferns in Grenoble last November.
Having lost their first game of the series to Canada 19-36, France made eight changes for the Black Ferns game and they proved effective, none more than the choice of one of the stars of the game, Women's World Player of the Year in 2018 French fullback Jessy Tremouliere who scored a try, set up another and landed 10 points with her boot.
---
QUICK TAP: CRUSADERS, AND ROBERTSON, ADD TO LEGACY
---
It was a complete lesson for the New Zealanders who were unable to get their running game to flow in the face of determined and fast rushing French defence.
Down 15 points in as many minutes, they were confined to playing catch-up rugby. And the mistakes mounted. But in a niggly game, in which France conceded three sin-binnings with another reversed, the French were not prepared to yield, and even down to 13 they finished strongest.
There was a late chance of a recovery after a penalty try, from an illegally sacked maul in the 73rd minute, moments after halfback Pauline Bourdon had been sent off. Captain Gaelle Hermet was also despatched for the maul offence, leaving France with only 13 players for the last 10 minutes. However, New Zealand couldn't seize the slim chance.
France made early impact the moment after they were able to put playing with the strong wind to advantage. A long downfield kick forced fullback Selica Winiata to clear from her own 22m area. France won the lineout and wing Marine Menager charged into the line from the blindside wing to create an overlap.

Tremouliere joined the line at speed and then slipped an inside pass to wing Caroline Boujard who crossed after five minutes.
They went further ahead with a penalty goal three minutes later.
But New Zealand didn't help themselves in the 15th minute when Tremouliere's attempted penalty goal rebounded back into the field of play from a goalpost. The Black Ferns were caught unprepared and when centre Maelan Filopon ran onto the ball she beat second five-eighths Kelly Brazier, the only defender, to score a soft try.
New Zealand's first points were from a penalty goal landed by captain and halfback Kendra Cocksedge in the 19th minute.
The Black Ferns, unable to make sufficient ground through their backs, opted to play it tight through the forwards. They gained good ground but were only able to gain another penalty goal in the 33rd minute. In the meantime there was a rare reversal of a sin-binning.
Referee Joy Neville sent France hooker Caroline Thomas off for interfering with Cocksedge off the ball. But before the penalty was taken the TMO called for her to look at the incident and it showed Black Ferns No.8 Charmaine McMenamin had pushed Thomas, although it did appear Thomas had plenty of time to change course before running into the New Zealand captain.
However, in the resulting play, and already under a warning, lock Audrey Forlani was ruled to have interfered in a Black Ferns maul and she was sin-binned instead. But in her absence in the remainder of the first half, the New Zealanders were only able to score a penalty goal.
Into the early stages of the second half, New Zealand looked to take advantage of the wind, but the French pinned the Black Ferns in their own territory and went close to scoring when second five-eighths Gabrielle Vernier made a probing run only to have her final pass go astray.
The Black Ferns responded when an inside pass from first five-eighths Ruahei Demant found Ayesha Leti-I'iga and she charged through on an impressive 30m burst only for France to win a penalty at the breakdown. However, the French were placed under another warning for slowing ball down and Cocksedge landed her third penalty goal in the 52nd minute.
France continued to press and in the 60th minute when Cocksedge failed to find touch from a penalty they were quick to seize their chance in running the ball down the sideline with replacement wing Elise Pignot passing inside to Tremouliere who was in support and able to run in the try.
France mounted another assault on the line but outstanding Black Ferns defence denied them with wing Ayesha Leti-I'iga securing a vital turnover that allowed a clearance to near halfway.
Scorers: Black Ferns 16 (Penalty try; Kendra Cocksedge 3 pen) France 25 (Caroline Boujard, Maelan Filopon, Jessy Tremouliere tries; Tremouliere 2 con, 2 pen). HT: 6-18
Congratulations Kendra on your 50th Test! ?? pic.twitter.com/alTkCOKQjm— Black Ferns (@BlackFerns) July 6, 2019