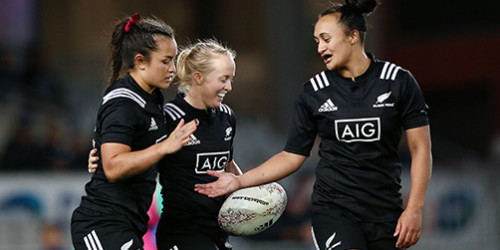 WHEN
June 28 – July 14, 2019

WHERE
Chula Vista Elite Athlete Training Centre & Torero Stadium – San Diego, USA

WHO
Black Ferns, England, Canada, France and USA – the top five teams in the World

SUPER SERIES
The Women's Rugby Super Series brings together the world's top five teams for a round-robin tournament across five competition dates in the greater San Diego area. It's the first time in three years that the event has taken place and its increased from four teams to five. Two games will be played per day and the tournament will take place at two venues. The opening few games will be at the Elite Athlete Training Centre, which is the home of the USA men and women's Sevens teams. The final round will be at Torero Stadium.
NEWS ?? | The #BlackFerns touring squad for the upcoming Super Series in San Diego has been named, as the team get set to assemble in Auckland!

FULL SQUAD ?? https://t.co/qJa92ZQ24I pic.twitter.com/kRKqKE1PWF— Black Ferns (@BlackFerns) June 18, 2019
BLACK FERNS SQUAD
Forwards: Eloise Blackwell (Auckland), Forne Burkin (Canterbury)*, Luka Connor (Bay of Plenty)*, Les Elder (Captain – Bay of Plenty), Karli Faneva (Bay of Plenty)*, Olivia Ward-Duin (North Harbour)*, Phillipa Love (Canterbury), Charmaine McMenamin (Auckland), Toka Natua (Waikato), Aleisha-Pearl Nelson (Auckland), Joanah Ngan-Woo (Wellington)*, Te Kura Ngata-Aerengamate (Counties Manukau), Marcelle Parkes (Wellington), Leilani Perese (Counties Manukau), Kennedy Simon (Waikato)*, Charmaine Smith (Auckland), Pia Tapsell (North Harbour)*

Backs: Chelsea Alley (Waikato), Kelly Brazier (Bay of Plenty), Kendra Cocksedge (vice-Captain – Canterbury), Krysten Cottrell (Hawke's Bay), Ruahei Demant (Auckland), Theresa Fitzpatrick (Auckland), Carla Hohepa (Waikato), Ayesha Leti-I'iga (Wellington), Arihiana Marino-Tauhina (Counties Manukau)*, Nathalia Moors (Auckland), Alena Saili (Southland), Renee Wickliffe (Bay of Plenty), Selica Winiata (vice-Captain – Manawatu).

* New caps/uncapped
Note: Aldora Itunu has been replaced in the squad by Olivia Ward-Duin due to injury.
?? As the #BlackFerns prepare to depart to San Diego for the Super Series, we catch up with captain Les Elder and find out about what and who inspired her to get into rugby. #TryAndStopUs pic.twitter.com/xXQgDM9BR5— Black Ferns (@BlackFerns) June 18, 2019
PLAYERS TO WATCH
With legendary skipper and hooker Fiao'o Faamausili hanging up her boots at the end of last year, Counties Manukau hooker Te Kura Ngata-Aerengamate will be looking to make the Black Ferns number two jersey her own in 2019. Ngata-Aerengamate has already notched up 23 Test caps and she'll look to build on that this year from a starting position. Kelly Brazier is back in the 15s squad after missing last year due to Black Ferns Sevens commitments. She is joined in the squad by fellow Sevens teammates Alena Saili and Theresa Fitzpatrick. Halfback Kendra Cocksedge is set to bring up her 50th Test match while in San Diego. If she reaches the milestone, she will become just the second Black Fern to play 50 Tests, alongside Faamausili.

BLACK FERNS SCHEDULE
All games will be LIVE on Sky Sport NZ:
Black Ferns v Canada – Sat 29 June – 11am NZT, Sky Sport 1
Black Ferns v USA – Wed 3 July – 12.15pm NZT, Sky Sport 1
Black Ferns v France – Sun 7 July – 9.15am NZT, Sky Sport 1
Black Ferns v England – Mon 15 July – 8am NZT, Sky Sport 1

OTHER MATCHES
England v USA Sat 29 Jun – 7.50am Sky Sport Pop Up 1
France v Canada Wed 3 Jul – 9.05am Sky Sport 1
Canada v England Sun 7 Jul – 12.05pm Sky Sport 1
England v France Thu 11 Jul – 9.05am Sky Sport 1
Canada v USA Thu 11 Jul – 12.05pm Sky Sport 1
France v USA Mon 15 Jul – 10.50am Sky Sport 1
The countdown is on!! pic.twitter.com/bgqUHX4ot7— Black Ferns (@BlackFerns) June 17, 2019