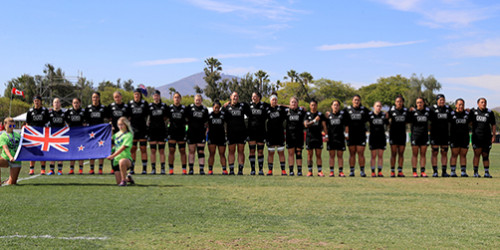 The team is (number of caps in brackets, * indicates debut):
1. Phillipa Love (8)
2. Te Kura Ngata-Aerengamate (25)
3. Aleisha-Pearl Nelson (30)
4. Eloise Blackwell (38)
5. Charmaine Smith (22)
6. Charmaine McMenamin (20)
7. Les Elder (Captain, 14)
8. Pia Tapsell (1)
9. Kendra Cocksedge (Vice captain, 48)
10. Ruahei Demant (6)
11. Ayesha Leti-I'iga (4)
12. Chelsea Alley (19)
13. Carla Hohepa (20)
14. Natahlia Moors (1)
15. Renee Wickliffe (36)

16. Forne Burkin*
17. Toka Natua (17)
18. Leilani Perese (6)
19. Joanah Ngan-Woo*
20. Kennedy Simon*
21. Arihiana Marino-Tauhinu (1)
22. Kelly Brazier (37)
23. Theresa Fitzpatrick (9)

?? Selica Winiata and Charmaine Smith discuss the Black Ferns win over Canada and how they recover quickly for their next Super Series match against USA in San Diego. #SuperSeries2019 pic.twitter.com/SBctjBgFae— Black Ferns (@BlackFerns) June 30, 2019
Wellington lock Joanah Ngan-Woo, Canterbury hooker Forne Burkin and Waikato flanker Kennedy Simon are all set to make their Test debuts from the reserves.
Ngan-Woo is set to don the black jersey for the first time after previously being a member of the touring squads for both the Laurie O'Reilly Memorial Trophy and Northern tours last year.
Moore said Ngan-Woo had served her apprenticeship and was up against some stiff competition for her locking spot.
"Joanah's worked very hard in the off-season, taking the advice we gave her and has taken another step up. We're looking forward to seeing her play, and when her name was read out this morning there was a massive cheer from the group, so it will be pretty special."
Originally from Hawke's Bay, Burkin was part of the Farah Palmer Cup winning Canterbury side while studying in Christchurch, and Moore said the selectors had been watching her for the past couple of years.
"We've been impressed with Forne for a while. She has good core skills and plays well out on the edge. We're expecting a lot of physicality from her against the USA."
Simon hails from the Waikato and has experience in sevens as well as fifteens.
Moore said she had fitted into the Black Ferns environment with ease and was constantly looking for ways to improve.
"Kennedy is very skilful and smart. She runs really clever lines and we want to have a look at her in this game to see what she can achieve on a bigger stage.
"We're expecting a lot from her, she's very talented and is a great team member as well."
Bay of Plenty's Kelly Brazier has been named in the reserves, her first time in the Black Ferns jersey since the 2017 Women's World Cup Final.

?? HIGHLIGHTS | The Black Ferns opened up their Super Series campaign with a 35-20 win over Canada in San Diego.

MATCH REPORT ?? https://t.co/9BPczydvg6 #SuperSeries2019 pic.twitter.com/a7iDuCpfjA— Black Ferns (@BlackFerns) June 29, 2019
"We all know how talented Kelly is and she can cover 10, 12 and 15. Kelly brings experience, she reads the game well, and is brave on defence. She has a calm head and is conditioned to playing on the big stage. She will bring a steadying influence to the back line.
"We are looking forward to seeing how this lineup goes."
Moore said the squad had recovered well from their match against Canada and would need to step up a notch against the USA.
"We watched the match between USA and England, and the Americans brought a lot of physicality and made some big hits so we need to be ready for that. We've put strategies in place to counter what we expect them to bring and are ready."

Chula Vista Elite Athlete Training Center
Saturday, 29 June
v Canada
Result: Black Ferns 35-20 Canada

Chula Vista Elite Athlete Training Center
Wednesday, 3 July
v USA
Kickoff: 12.15pm (NZT)

Chula Vista Elite Athlete Training Center
Sunday, 7 July
v France
Kickoff: 9.15am (NZT)

San Diego State University's Torero Stadium
Monday, 15 July
v England
Kickoff: 8am (NZT)

Laurie O'Reilly Memorial Trophy
Optus Stadium, Perth
Saturday 10 August
v Australia (With All Blacks v Australia)
Kickoff: 7pm (NZT)

Eden Park, Auckland
Saturday 17 August
v Australia (With All Blacks v Australia)
Kickoff: 5pm (NZT)

Broadcasting
All matches will be broadcast live in New Zealand on SKY Sport 1.

Welcome to the #BlackFerns family Pia, Arihiana, Luka & Karli ?? pic.twitter.com/67gyepTZWb— Black Ferns (@BlackFerns) June 29, 2019