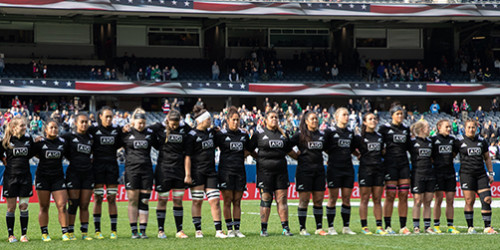 The team is (number of caps in brackets * indicates debut):
1. Phillipa Love (5)
2. Fiao'o Faamausili (55, captain)
3. Aldora Itunu (18)
4. Eloise Blackwell (35)
5. Charmaine Smith (19)
6. Charmaine McMenamin (17)
7. Les Elder (12)
8. Aroha Savage (31)
9. Kendra Cocksedge (45, vc)
10. Krysten Cottrell (3)
11. Ayesha Leti-I'iga (1)
12. Ruahei Demant (3)
13. Stacey Waaka (14)
14. Renee Wickliffe (33)
15. Selica Winiata (34, vc)
16. Te Kura Ngata-Aerengamate (23)
17. Leilani Perese (3)
18. Aleisha-Pearl Nelson (27)
19. Jackie Patea-Fereti (15)
20. Linda Itunu (38)
21. Marcelle Parkes*
22. Kristina Sue (38)
23. Monica Tagoai (1)
Moore has named one debutant – flanker Marcelle Parkes from Wellington - in the lineup, while Hawke's Bay's Krysten Cottrell will start at first five, with Ruahei Demant moving to second five.
Moore said 20-year-old Parkes had been going from strength to strength in training and was ready to make her mark on the big stage.
"Marcelle is like a sponge. She soaks up everything the coaches and her teammates teach her, and puts it in to practice.
"More than that, she studies the game in her own time and does a lot of work to make sure she thoroughly understands her role.
"We've seen a lot of growth in Marcelle since she's been in the Black Ferns environment. We think this Test match is the right opportunity for her, and we'll be expecting good things."
Mini-team challenges = ?? competitiveness levels#FRAvNZL #BlackFerns pic.twitter.com/h2tbbbNL8R— Black Ferns (@BlackFerns) November 6, 2018
The combination of Demant and Cottrell was tested during last weekend's Test match against USA, and Moore was pleased with what he saw.
"Ruahei and Krysten bring their own skillsets which combine well in their positions. Together, and working with Kendra, they will bring new aspects to our game which will be important against the French – particularly when it comes to our kicking options," he said.
The Black Ferns reserves will be made up of six forwards and two backs, a proven combination from last year's Women's Rugby World Cup.
"It's an approach we used in Ireland and it worked well for us. We're expecting the French to be very physical up front and we've been training really hard to ensure we're ready for that. Having an extra forward available will give us extra strength to combat the French pack."
A new week, a new focus ??

?? Saturday 10th November
? 9:00am NZT
?? Stade Mayol, Toulon
?? #FRAvNZL pic.twitter.com/Por1wtH7NZ— Black Ferns (@BlackFerns) November 6, 2018
Moore said he was impressed with aspects of the Black Ferns' performance against the USA, but there was always room for improvement.
"We were a little impatient at times and let them off the hook when we shouldn't have. Make no mistake the French will be a real threat on Friday. Last year they had the potential to be in the final of the World Cup.
"We are expecting them to be a formidable opponent. They have size, athleticism and really good game knowledge. We will give them every respect and will do our utmost to make everyone at home proud."