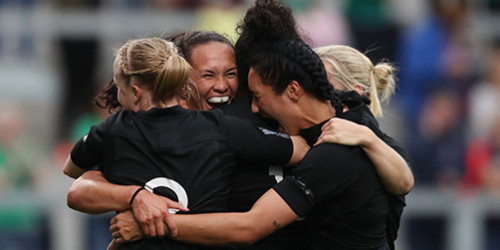 New Zealand Rugby (NZR) today announced a project to officially cap all Black Ferns who have played in sanctioned Test matches in a series of ceremonies and events which begin this month.
---
NZR Chief Executive Officer Steve Tew said the capping project was an important part of recognising the achievements of the World Champion Black Ferns.

"The planning that goes into official recognition of the Black Ferns has been in motion for some time now. Given this year marks the 20th anniversary of our first Women's Rugby World Cup win in 1998, it seemed fitting to bring the players together and cap the team at a reunion dinner."

The reunion dinner on 8 June in Auckland will bring together 130 former Black Ferns stretching back to 1989 when the first official national women's team played the visiting Pacific Coast Grizzlies at Christchurch's Lancaster Park.

Since then, 193 women have been selected as Black Ferns, with Canterbury's Jacqui Apiata capped with number one and North Harbour's Rebecca Wood the newest Black Fern from the 2017 squad.

Tew said the reunion dinner promises to be a great evening, with a number of overseas-based players attending the event.
"Wearing the black jersey and representing your country is a special moment for any New Zealand athlete. This is a rare opportunity for former teammates to get together, reminisce, and celebrate their success. It's going to be a very special night and is another element of creating an ongoing legacy for the team."
About the capping project

• Black Ferns who took the field in a sanctioned international Test match will receive a cap over the next three years.
• 161 women to be capped over the next three years.
• The caps are based on traditional rugby caps and feature the Black Ferns number, the silver fern and details of their Test debut.
• 46 Black Ferns will be capped at the reunion dinner on June 8.
• These include the 1998 Black Ferns, Black Ferns who have travelled from overseas to attend and the families of Black Ferns who have passed away.
• Players who represented the Black Ferns in matches in 1989 and 1990 and went on to play official Test matches are also set to be capped at the reunion.
• Further capping ceremonies will take place over the next three years to ensure all Black Ferns receive their caps.