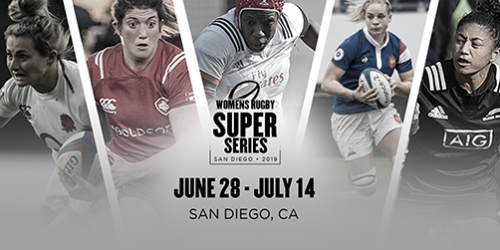 The Women's Rugby Super Series 2019 brings together the Black Ferns (1), USA (5), Canada (3), France (4) and England (2) for a round-robin tournament.
---
New Zealand Rugby (NZR) Chief Rugby Officer Nigel Cass said the Super Series Tests, coupled with the two-Test Laurie O'Reilly Memorial Trophy series against Australia in August, made it a significant year for the Black Ferns.

"The Women's Rugby Super Series 2019 will showcase the best women's rugby teams in the world in one tournament and it doesn't get much better than that in a non-World Cup year. This series will be a very exciting prospect for the teams and our fans.

"Last year the Black Ferns played on American soil for the first time, in Chicago, and given the growth of rugby in North America it's becoming a more regular Test match destination for our teams," he said.

This will be the first time the Black Ferns have been included in the Super Series which has previously been contested by USA, Canada, France and England. It was last played in 2016 when Canada won the title and England was runner-up.

Cass said with the 2021 Women's Rugby World Cup on the horizon, the Super Series would be an important milestone in preparation for the global tournament.

"These teams haven't always had regular high-level competition so it will be an important part of the build-up to 2021."
Black Ferns Schedule 2019:

Women's Rugby Super Series 2019
Chula Vista Elite Athlete Training Center
Saturday, 29 June
V Canada
Kickoff: TBA

Chula Vista Elite Athlete Training Center
Wednesday, 3 July
v USA
Kickoff: TBA

Chula Vista Elite Athlete Training Center
Sunday, 7 July
v France
Kickoff: TBA

San Diego State University's Torero Stadium
Monday, 15 July
v England
Kickoff: TBA

Laurie O'Reilly Memorial Trophy
Optus Stadium, Perth
Saturday 10 August
V Australia (With All Blacks v Australia)
Kickoff: TBC (NZT)

Eden Park, Auckland
Saturday 17 August
V Australia (With All Blacks v Australia)
Kickoff: TBC (NZT)
NEWS | Two former @BlackFerns among New Zealand representatives on @WorldRugby Awards panel for 2019.

READ ???? https://t.co/WlVNkkaQC7 pic.twitter.com/Ko7LttzbUI— Black Ferns (@BlackFerns) March 20, 2019