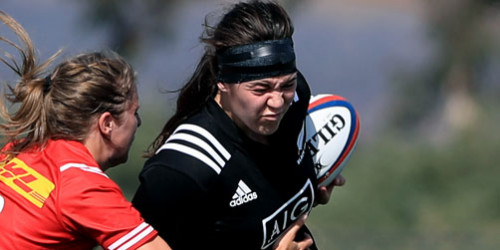 With England having the bye in the second round, they remain the only other unbeaten side after Canada beat France 36-19 in the other game of the round.
---
QUICK TAP: CRUSADERS DEPTH TO BE TESTED IN SUPER RUGBY FINAL
---
Black Ferns Eloise Blackwell, the player of the game, said it had been a typical contest against the USA where the home team never gave up and had been trying right through until the end of the game.
New Zealand dominated from the outset. It showed in its first two lineouts that its driving play caused all manner of defensive problems for the hosts and it continued throughout the game.
From the second lineout the ball was driven at the line by the pack with lock Charmaine Smith, loose forwards Charmaine McMenamin and Pia Tapsell pouring in the hard work and when the ball emerged its was centre Carla Hohepa who was on hand to take a short pass from first five-eighths Ruahei Demant, who could have scored herself, to score.

Penalties and skills breakdowns conceded by the United States allowed New Zealand to pin them in their 22m area and again after more driving play it was hooker Te Kura Ngata-Aerengamate standing off on the blindside who scored the second after 12 minutes.
Cocksedge's second conversion brought up 300 points in Test rugby.
Demant was denied a try after an earlier high tackle was ruled against Aleisha-Pearl Nelson but when a quick penalty tap was taken in the 22m area by Cocksedge she fired a long pass across to wing Nathalia Moors who celebrated her debut with a 25th minute try.
Towards the end of the half, the USA began to make more incursions into the New Zealand 22m area but each time the pressure told and ball was too often conceded.
Up 19-0 at halftime, the Black Ferns attacked through the lineout again in the first moments of the second half with an eight-phase assault providing the chance for Tapsell to drive over.
Introduction of substitutes saw both sides take time to settle again but none more of an impact than Theresa Fitzpatrick who at her first touch took a gap and raced 40m downfield. It set up more opportunities for New Zealand but the USA defended well and then attempted to make some strong runs from deep in their own territory. Second five-eighths Alev Kelter several times tried to make ground breaking back on tangents.

Congratulations to @kenj0119 for surpassing 300 Test points today!! ????#NZLvUSA #SuperSeries2019 pic.twitter.com/1c59ulu0JH— Black Ferns (@BlackFerns) July 3, 2019
They were unable to get hard-running fullback Bui Baravilala into the action often enough as she proved a handful whenever she had the chance to wind up her sprint.
However, the Americans were consistently undone by poor handling and lineout throwing woes which made applying pressure much easier for New Zealand.
Cocksedge and Demant kept the ball in front of the pack and then in the 62nd minute the Black Ferns unleashed a ferocious lineout drive with the backs joining in and getting lock Eloise Blackwell over for the fifth try.

Scorers: Black Ferns 33 (Carla Hohepa, Te Kura Ngata-Aerengamate, Natahlia Moors, Pia Tapsell, Eloise Blackwell tries; Kendra Cocksedge 4 con) United States 0. HT: 19-0
FT | A great performance by the Black Ferns against a gutsy @USARugby side in San Diego! We come away with a 33-0 victory. #NZLvUSA #SuperSeries2019 pic.twitter.com/E2E5e2iBKg— Black Ferns (@BlackFerns) July 3, 2019