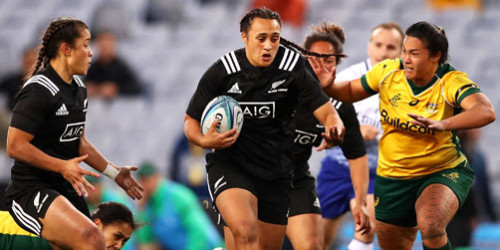 Faamausili may have been voiceless during the game due to losing her voice beforehand, but she led with her actions, scoring three tries as the Black Ferns lineout drive punished the Wallaroos in the 31-11 win in Sydney.
---
QUICK TAP: CAPTAIN'S HAT-TRICK SECURES BLACK FERNS WIN
---
Faamausili said she was pleased with the side's lineout driving but it was the pack that set the platform and she had been the lucky one who got to register the points.
Several new caps were introduced in the game and her advide to them had been to stay calm and to enjoy the moment. All their work had been done through training and to just go out and have fun.
"To me they're not debutants because they've got attitude right through on and off the field. They've got amazing skills and they're just part of the Black Ferns," she said.

Bound for Auckland ??#BlackFerns #NZLvAUS pic.twitter.com/qWNJZD3CkQ— Black Ferns (@BlackFerns) August 19, 2018
The side had met their standard only in patches but they were a side that would keep progressing and with that in mind they were looking forward to the second Test.
Moore said he thought the Black Ferns were a little rusty at the start of the game and had tried to force some things that were not quite there.
"We tried to flick some 50-50 offloads where we would have been best to carry. Once we started carrying, particularly off 10 directly at the middle when they were rushing out at us, we looked a lot better and we had some second man plays and we started using them in the second half which got us really out on the edge.
"I'm confident we'll get polished this week, we definitely needed that game," he said.

"Fi, you're a hungus!" - @sumostevenson as Captain Fiao'o Faamausili picks up a hat-trick for the #BlackFerns #AUSvNZL #DoubleHeader pic.twitter.com/n0utvWrWPv— Black Ferns (@BlackFerns) August 18, 2018
They felt Australia tryied to rush them in the midfield so they had changed to try and have a crack at them in the tight to bring players in to that contest in order to create space out wide. They had also benefited from some of the drives they created.
The Australian approach had been anticipated and they had worked on counters to that, and one of the Black Ferns tries had been practised the day before the game and was played out during the game.
Australia had defended well for long periods of the game, he said. Moore said the Australian game had improved significantly. He had seen games in their domestic provincial competition this year and it was clear to him they would be far better than they had been before.
They had been unlucky in some of the games they played at the World Cup last year to not achieve better outcomes.
Their conditioning was better and they were a lot more dynamic with their game by using the ball more instead of just employing one-off runners.
Moore said a Black Fern who stood out for him was loosehead prop Pip Love with her carrying and defence and also her scrummaging.
He said he was delighted with replacement prop Leilani Perese who had been very nervous ahead of the game but who had come on and 'wrecked' the first scrum she was involved in and had some nice carries as well so it had been good for her, he said.
RECOVERY ??‍?? This week's spin class presented by Kiritapu Demant ?? pic.twitter.com/bw77lAoDlU— Black Ferns (@BlackFerns) August 18, 2018