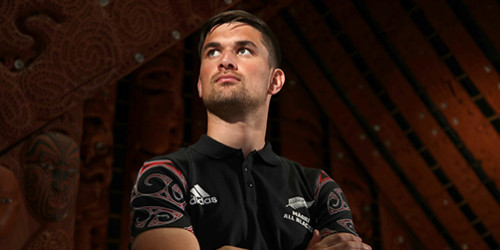 Not so Otere Black. The 23-year-old No 10 from the Manawatu Turbos is feeling fresh like it was March as he contemplates the Maori All Blacks' three-match tour next month.
---
QUICK TAP: NEW FRONTIERS FOR MAORI ALL BLACKS IN NOVEMBER
---
Just over a year ago (October 11, 2017) he ruptured the ACL in his knee. Surgery was followed by long, boring rehab, and frustration that he could play no tangible part in the Blues' campaign.
But he has returned to the field for six Mitre 10 Cup games with his beloved Turbos, starting with two off the bench, and has pronounced himself ready for the next challenge.
"I'm pretty excited. A lot of the guys have had big years but I'm just kicking mine off. I'm just keen to get on tour and play some good footy," says Black, of Ngai Tuhoe/Te Whanau a Apanui/Ngati Tuwharetoa blood.
He is one of two first fives named in the Maori All Blacks squad, alongside Josh Ioane of the Highlanders and Otago, though Waikato's Matty Lansdown, named as a midfielder, can also suit up to good effect at pivot.
"I've really enjoyed getting back playing footy with my mates at Manawatu. I missed a lot of footy. Making this team was in the back of my mind because I knew I'd be fit and available this time for the tour with a few games under my belt," Black says, having missed the Maori 2017 two-match tour of Canada and France.
"First and foremost, I was just happy to be back playing, but once I got a couple of games in, I felt pretty good and that I had done enough to push my case for this team."
Black and Ioane should have an interesting tussle for the No 10 jersey. Ioane has yet to debut for the Maori but is coming off a fine 2018 where he made his first Highlanders appearance and has been in tremendous form for an Otago side that has just won the Ranfurly Shield.
The pair are contemporaries and Black rates him highly.
"I'm happy for him because he was behind Lima Sopoaga at the Highlanders. I know what that's like, being in a similar situation at the Hurricanes behind Beauden (Barrett). I'm looking forward to working alongside him."
Black himself has made four appearances for the Maori, debuting off the bench in Suva against Fiji in 2015, where he kicked the winning conversion. His first start was in 2016 in the 27-14 defeat to Munster at Thomond Park. Now, with Ihaia West overseas, Black has the chance to stake a strong claim in what looks to be a very useful squad.
"There's a lot of awesome talent and a good group of new players make for a good mix. The management have done a good job," says Black.
He has never worked with coaches Clayton McMillan, Roger Randle and Joe Maddock before, but is looking forward to the partnership.
The exotic itinerary, which includes Brazil and Chile, is a carrot too, but Black is not thinking further ahead than Soldier Field, Chicago, on November 4 (NZT).
"We played in Chicago with the Maori two years ago, but the one this year will be a lot bigger with the tripleheader at Soldier Field. The USA will be tough, especially in America in front of a good crowd. Hopefully we'll put on a good performance."
ICYMI | The #MaoriAllBlacks squad for the November tour to Chicago and South America has been named. How strong is this squad looking ???

FULL STORY ?? https://t.co/Ke6jOmVuJ6 pic.twitter.com/RPcaEzyh2s— All Blacks (@AllBlacks) October 16, 2018