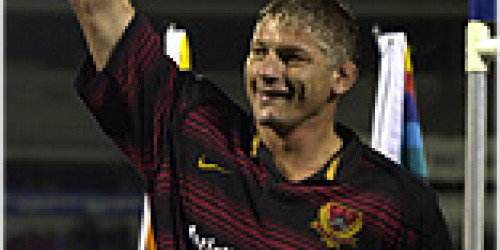 He succeeds Frank Hadden, who is now in charge of Scotland.

The appointment was widely expected within Scottish rugby but could not be made official earlier as he required a work permit.

Until now the former Canterbury and Crusaders captain's visa allowed him only to play, although he helped coach the side.

Blackadder, 34, will now lead an Edinburgh coaching team that includes Carl Hogg, Phil Smith and Ken MacEwen, with senior player contributions provided by Chris Paterson, Scott Murray and Dave Hewett.

Blackadder reiterated yesterday that he would return home to New Zealand at season's end, but a successful period in charge of Edinburgh may persuade him to extend his stay.

A loose forward who also played lock, Blackadder captained the All Blacks on 10 of his 12 appearances.

He is widely credited for galvanising an under-achieving Edinburgh pack following his move to Scotland from Canterbury in November 2001.

He was, for a brief time, part of Matt Williams' Scotland coaching team, and he also took over as Edinburgh forwards coach after the departure of Henry Edwards last year.

He has played more than 70 times for Edinburgh, although injuries severely restricted his appearances over the past two years.

"There is a bit of cross-over with the start of the New Zealand season but what will really dictate is whether they bring someone in," Blackadder told Britain's Telegraph newspaper.

"It can work either way, they might want me to stay and help with the transition, or go and let them get on with things. All I'm saying is I'll make it easy whatever is wanted.'

"But I'm obviously delighted and really looking forward to taking the Edinburgh Gunners on from here.

"We have great staff and excellent players and I am excited by the challenges ahead."

Edinburgh have won three of their four games so far in the Celtic League and lie in third place behind Ulster and Cardiff.