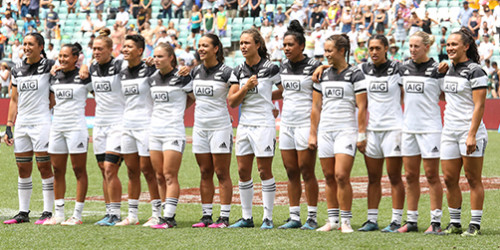 The 2018 squad of 23 contracted players for 2018, includes three new players among the 20 fully contracted players and three training contracts.
The contracted squad is (* indicates a new contracted player):
Shakira Baker – Waikato
Michaela Blyde - Bay of Plenty
Kelly Brazier – Bay of Plenty
Gayle Broughton – Bay of Plenty
Lyric Faleafaga – Wellington
Rhiarna Ferris – Manawatu*
Theresa Fitzpatrick – Auckland
Sarah Goss – Manawatu
Huia Harding – Waikato*
Jazmin Hotham – Waikato* (training contract)
Natahlia Moors - Auckland* (training contract)
Tyla Nathan-Wong – Auckland
Risi Pouri-Lane – Tasman*
Leanna Ryan - Waikato* (training contract)
Alena Saili - Southland
Shiray Tane – Waikato
Terina Te Tamaki – Waikato
Ruby Tui – Bay of Plenty
Stacey Waaka – Waikato
Kat Whata-Simpkins – Wellington
Niall Williams – Auckland
Tenika Willison – Waikato
Portia Woodman – Counties Manukau
Waikato's Shiray Tane returns after last playing for the Black Ferns Sevens in 2016; Lyric Faleafaga graduates from a training to full contract, while six new players have all progressed through the New Zealand Sevens Development programme.
Black Ferns Sevens Coach Allan Bunting said the growth in the women's game has unearthed talented athletes and that he is looking forward to working with the new players.
"We have been keeping a close eye on the development group for quite a while and watched how they performed at Nationals last month.
"The players we have brought in have a lot of potential and the ability to learn and grow quickly. They will add enthusiasm to our group and have the character and work ethic that we are after," said Bunting.
Rhiarna Ferris, Huia Harding and Risi Pouri-Lane are all new to the Black Ferns Sevens team, while Jazmin Hotham, Natahlia Moors and Leanna Ryan will join the squad on training contracts.
The #AllBlack7s and #BlackFerns7s pools have been confirmed for the 2018 Commonwealth Games.

READ MORE: https://t.co/6aV4WWySb9 pic.twitter.com/ByTqdzpwsm— Black Ferns (@BlackFerns) February 1, 2018