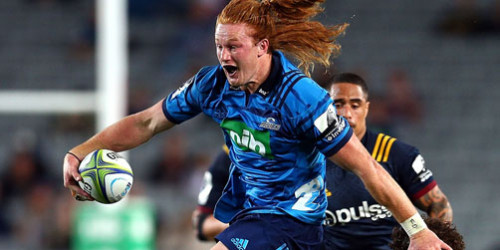 Coach Leon MacDonald said it had been an arm wrestle with ebbs and flows as they had expected and the bench had provided composure towards the end and helped by securing some key scrums and some good execution.
"The big thing you can see is a team that is playing for each other and showing a bit of grit and [if you have that] the rest of the detail to your game can always be improved. As long as you've got a team that's hungry to play for each other and the jersey, you're on your way. I think we definitely showed that tonight," he said.
That mood was highlighted with their last try to regain the lead as a result of lock Patrick Tuipulotu scoring after a series of pounding surges at the Highlanders' line.
It was an area the side had been struggling in the opposition 22m area in the later stages of games and finishing off and scoring.
"A lot of it is just mindset and the will to get over that line and there were some big carries and I thought Patrick was outstanding in that area, and all the forwards rolled their sleeves up in that part of the field as well," he said.
Adding to the achievement was the way the side had not lost heart after a try to hard-working flanker Tom Robinson was ruled out at a stage when the Blues would have gained a significant buffer.
It also helped that wing Rieko Ioane, fullback Melani Nanai and the centre he described as 'under-rated', TJ Faiane, were hitting their straps together.
No.8 Akira Ioane was under pressure to lift work rate, and MacDonald said he did things that nobody else could do.
"Some of his ball carries and his ability to create mauls out of nothing and get over the ball, he's always looking for opportunities. He's hungry to get better, he's had that feedback so we're always trying to push him and getting him working harder round the field.
"But in terms of carries he's right up there with the most in the competition," he said.
Highlanders coach Aaron Mauger said big moments, especially in the last 20 minutes when they had missed touch, dropped balls and sinbins had all combined to see the Highlanders as masters of their own demise.
"You can't take anything away from the Blues, they deserved their victory. It feels like we just didn't execute in those big moments especially towards the end.
"The game was in the balance 26-23 with 20 [minutes] to go. We planned for a strong finish but we just didn't nail those moments. We didn't give ourselves a chance, we didn't spend any time in the Blues' half on attack in that last 20," he said.
It had been extremely frustrating, especially with experienced players making those errors. They would be looking to stay on top of their game heading into next weekend's bye because they had three more derbies and they needed to be better.
"We've had five games this season and they've all looked the same, we haven't quite got out of second or third gear," he said.