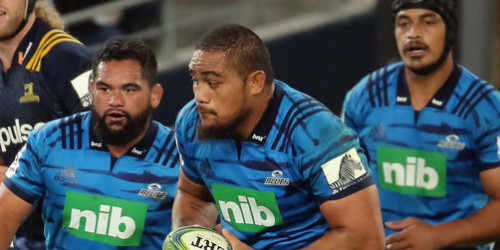 MacDonald said that problems being posed on the field, like that when they got on the wrong side of refereeing decisions at scrum time in Canberra last week, were not being solved quickly enough.
And that wasn't a new issue for the Blues.
---
QUICK TAP: HURRICANES READY FOR PACK TRIAL
---
MacDonald said: "This is where this team has been for a while now – right in the hunt but just not winning the little moments. We had our run on the right side of the ledger but the last three weeks we haven't got it right in those critical moments.
"It hurts more when you know you've done enough, but haven't quite got there," he said.

The Blues to take on the Hurricanes.

??? Friday May 10
? 7:35 pm
?? Eden Park
??? https://t.co/PmdfQcI3Jg#RiseUp #BluesAllDay #BLUvHUR pic.twitter.com/E7JPZ7KUoc— The Blues (@BluesRugbyTeam) May 8, 2019
Having worked with Tom Coventry and Ben Afeaki on building up the Blues scrum to be a more effective and competitive unit, MacDonald was confident the issues exposed in Canberra could be resolved.
"The scrum is an easy one for us. We are generally a pretty good scrummaging team, and teams would be a little wary of what our scrum can pose.
"This is the first time that happened and there have been some circumstances around that as well. You can't throw the baby out with the bathwater and you have to understand they whys and what's next.
"There's a bit of disparity round what the players are feeling and doing and what's being officiated, so that's always a frustration but it's not the reason we struggled," he said.
There had been advice from Sanzaar refereeing officials that there would be attention on the scrum, but Blues concerns had been backed by other New Zealand sides this week with All Blacks captain Kieran Read especially vocal.
MacDonald said his props struggled with the refereeing rulings and couldn't understand what was wrong.

Our names represent our heritage, so does our ink.#SayMyName #RiseUp #BluesAllDay pic.twitter.com/Bags1aH0vn— The Blues (@BluesRugbyTeam) May 8, 2019
"That puts them in two minds, and they struggled to know what they could and couldn't do, and if compromised our scrum and them.
"We struggled to adapt. We didn't adapt to the referee and ended up with players in the bin and a set piece that struggled. It's easy to sit here and go there were a lot of lessons, but it's frustrating as hell and we've got to be better."
MacDonald said it was usually a case of it being one thing one week and something else next.
That demanded the Blues adapt better and be quicker at finding on-field solutions, and that was a continuing area of development for the side.
"Tom [Coventry] has put the acid on the pack this week and you can see there has been a steely resolve throughout the week. Hopefully, we see a response that shows we're really disappointed with what happened last week," he said.
?? The Say My Name Round is back! Check out the video to see how some of our players pronounce their name.

Shout out to @thecoconetTV and @whatwouldkritdo for kicking this off in 2016. We're hyped to keep the movement going with you! ?? pic.twitter.com/uWLFpVEIWT— Super Rugby (@SuperRugbyNZ) May 8, 2019