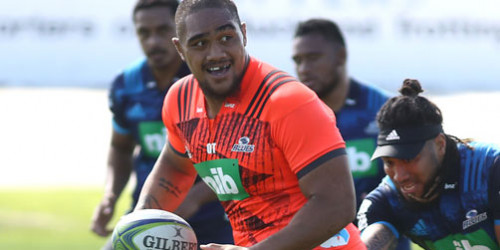 Coach Leon MacDonald said the continuity the Blues have enjoyed this year with the ability to put largely unchanged teams out week in and week out had been of benefit to the side. It helped in their goals but at the same time they recognised there were players waiting in the wings for their chances.
MacDonald said as long as they could keep the energy coming from the starting 23 they were happy to keep them going. It was a fortunate place to be, especially compared to last year when they had more than a starting XV out with injuries, he said.
It would also be important in rectifying the mistakes that contributed to their loss last week against the Chiefs.
MacDonald said: "We weren't quite on our game, we felt and there was areas we weren't pleased with and we know we can do better at, so that's always frustrating but the nature of the competition says that if you are just slightly off teams will make you pay.
"We let in a few tries that we weren't stoked with but we did create a lot as well and I thought some of our tries were outstanding so we're excited about the new challenge.
"The energy this week has been really good. We got straight into our work on Monday and the players had a great attitude around the week and looking forward to it."
MacDonald didn't think a lot of adjustment needed to be made heading down to Dunedin and playing under the Forsyth Barr Stadium roof. The Blues train during the day and it tended to be really dry and the big adjustment they had to make was when they hit wet weather when they haven't trained in the wet.
Most of the guys who had played there realised it would be a fast game and that was something that suited the Blues and the Highlanders.
"It's going to be a hell of a game," he said.
While the Blues were outplayed at the breakdown in last week's loss to the Chiefs, and it was an area the Highlanders were traditionally strong in, but it was something the Blues felt they were strong in as well.
"It's not a matter of reinventing the wheel there, it's just getting it right really. Everything this week points to…we've put a lot of work into it and we know the challenge is coming there," he said.
Reverting to the ploy of bringing All Black prop Ofa Tuungafasi off the bench suited their plan for this game but his usual partner Karl Tu'inukuafe would be starting.
"That's what we wanted off the bench this week and he's good at it. To be able to roll him on when the game is starting to open up a little is going to be useful for us," he said.
While the Highlanders haven't won as many games as they would have wanted, their fate could lie with any one of the New Zealand sides, except the Crusaders.
"They've had a lot of close losses and they've been right in every game really so I've got a huge amount of respect for them. We just scrapped past them last time and we probably one or two critical moments near the end when they could easily have done it so we understand they're desperate.
"All the teams are at this time of the year so we are as well. We're bracing for a battle," he said.