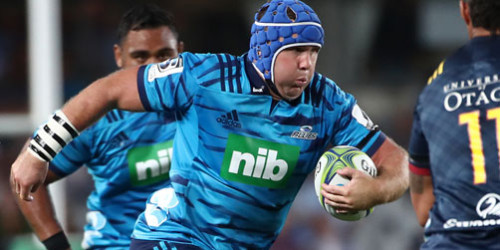 Parsons will make his 100th appearance on Saturday, on the same ground that he made his Blues debut back in 2012, on Forsyth Barr Stadium in the Investec Super Rugby game against the Highlanders.
"That was a massive scalp. I'm a bit of a traditionalist so having that for the rest of my life is huge," he said.
Parsons said he was most proud of the fact he had shown some stickability. While the Blues had not enjoyed the most successful times during his career he felt the situation had created resiliency in him.
"I'm here until we turn it around and make this club great again," he said.
"It's not something you set out for, you're just grabbing onto contract after contract when you first start, then you strive to get into the starting XV and obviously the All Blacks," he said.
But it was when getting into the 90s that the excitement started to build.
"To do it with both [North] Harbour and the Blues is something I'm really proud of and I'm just looking forward to Saturday night," he said.
Loyalty was something he valued and had driven him during his career.
He needed to be loyal as he sat on the bench for 10 games for the full 80 minutes when Keven Mealamu was in his prime.
"I was well and truly ready when I got on the field, that's for sure."
Mealamu had been a great mentor, he said. Parsons said he didn't have natural ability, he had to work at his game all the time.
"He [Mealamu] had this attitude, you get better every day and I've just tried to replicate that as best I can and hopefully I'm passing on to the young hookers below me," he said.
Coach Leon MacDonald said: "He epitomises a lot, his work ethic is outstanding. He's a really diligent guy, he's a proud Blues man and I know it's a proud moment for him. It's a real credit to the way he's gone about his work over the years. He's been through a lot with this group, tough times and good times.
"He's a smart rugby player, he prides himself on his work ethic off the field, he does a lot of homework on opposition. He reviews himself honestly and thoroughly. He's been a captain and he's a leader naturally and he's quite demanding of his teammates around him. Those sort of guys are invaluable in a group and he's definitely that."
Parsons was out of the ordinary in his commitment to the side and not having pursued offers overseas.
"He's very passionate about the teams he plays for, he loves [North] Harbour and he loves the Blues and at the moment he's fully invested in this team, emotionally and physically and he wouldn't want to be expending his energy elsewhere so we're really lucky for that, his experience is invaluable," MacDonald said.