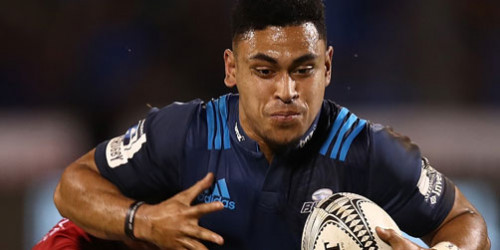 Perofeta, from Wanganui via Taranaki, could have been in Georgia with the New Zealand Under-20 side having been a team member last year. At the start of the season one of his goals was to regain his place in that side in order to finish some business which went awry in last year's Under-20 world championship.
But coach Tana Umaga, knowing he would be without Piers Francis who had been called into England's team in Argentina, gave Perofeta some time in Apia on Friday in which he scored the match-winning try – the result of the basic five-eighths' instinct of backing up.
That was enough to see him preferred ahead of Ihaia West, who was also available after having recovered from injury.
Umaga said Perofeta had been involved in the side for the last two weeks while West had been out with an injury.
"It's a big opportunity for Stephen to step up and we believe he's ready to do that," he said.
"His skill set belies his age. He is only a young man. The skills that he has are obviously the skills of a 10 [first five-eighths] that he has developed over time. We just want to make sure that he's developing, but he's earned the right to start for us this week and I think again we don't want to put too much pressure on the young man but an opportunity against the British & Irish Lions doesn't come around every day," he said.
While Sonny Bill Williams had been bracketed at second five-eighths with TJ Faiane, Umaga, and Williams, were confident he would play.
The bracket had been made to keep everyone prepared. He had come through Monday training with his knee in good shape but a final decision would be made after the captain's run on Tuesday.
Williams said the game would be another milestone in his already impressive career and the side were looking to build on the progress they showed in Apia on Friday.
He had been frustrated during the season but was happy with where he was at now and was just trying to get some consistent play.
Umaga said they weren't quite sure what to expect from the Lions being only their second game on the tour. They were just preparing for everything with the main concentration being on their own game.
They were used to that and they didn't want to change too much because it created too much uncertainty, he said.
The Blues were expecting a backlash as a result of the Lions' ordinary showing in their opening game.
"They'll come out wanting a more polished performance. We'll just try and put pressure on them and do what we do as best we can," he said.
Captain James Parsons reiterated Umaga's point that the Blues would have to match the Lions physically before they earned the right to move the ball wide.
"Once we've done that hopefully we've set a good platform for the backs," he said.
The Blues team is: 1.Ofa Tu'ungafasi, 2.James Parsons (captain), 3.Charlie Faumuina, 4.Gerard Cowley-Tuioti, 5.Scott Scrafton, 6.Akira Ioane, 7.Blake Gibson, 8.Steven Luatua, 9.Augustine Pulu, 10.Stephen Perofeta, 11.Rieko Ioane, 12.Sonny Bill Williams/TJ Faiane, 13.George Moala, 14.Matt Duffie, 15.Michael Collins.
Substitutes: 16.Hame Faiva, 17.Alex Hodgman, 18.Sione Mafileo, 19.Patrick Tuipulotu, 20.Kara Pryor, 21.Sam Nock, 22.Ihaia West, 23.Faiane/Melani Nanai.
ICYMI: Tour manager John Spencer announced the team to face the @BluesRugbyTeam...

More ?? https://t.co/thDwpNpRWE#AllForOne #LionsNZ2017 pic.twitter.com/hVA1C6r7YK— British&Irish Lions (@lionsofficial) June 5, 2017