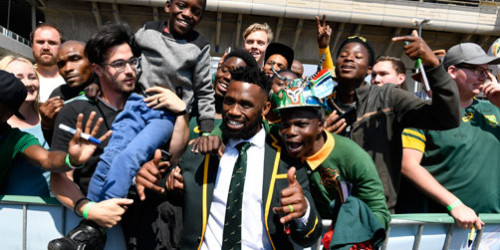 Having looked over the New Zealand selection for the tournament, Erasmus told South African media, "I looked at their squad and as a coach it's tough to select a World Cup squad, especially if you've got players who have niggling injuries. And also if you've got players who are over 30-years-old.
"In a World Cup, if you've got a lot of players who are over 30, you really have to manage your squad well, especially in short turnaround times.
"I looked at their average squad age and there are quite a few guys over 30. Then you have a guy like [Brodie] Retallick who is such an important player for them, and I guess he's going to be fit somewhere in the tournament," Erasmus said.
"It's the same with Siya [Kolisi]…I would have been worried if I took him to the World Cup and he wasn't ready to play. Where would he get match fit?"
It was a 'really strong squad' that had been named.
"If Retallick gets through the games, and they get him match fit, and those players who are over 30 don't have those niggling injuries, they've got an experienced squad and they'll be the team to beat at the World Cup," he said.
South Africa will be one of the first sides to arrive in Japan for the tournament as they have a warm-up game against the host country on September 6.
Erasmus intends playing a full-strength side against Japan and said the side for that game would be similar to the one he intends to field in their opening pool game with the All Blacks a fortnight later.
He was also concerned about Japan, who caused the upset of the last World Cup when beating South Africa in pool play.
"They're the hosts, we'll play in front of a full house, and the conditions will be tough; the ball will be slippery and it'll be hot and humid. Japan are also a team who don't like much structure, where we do, so I'm a bit nervous about it, to be honest," he said.
"The plan is to play our most in-form, strongest possible team against Japan to get some rhythm before we play the All Blacks, because there's a nice two-week break between the games.
"Obviously nobody can be complacent and just breeze through that game, not play well and still expect to play the next game again.
"So we're pretty sure that the team is going to look like, but we'll only announce that to the squad on Sunday so they can train hard this coming week," he said.
Erasmus said South Africa's greatest strength was that they were all fit and well-conditioned.
"All of them can go 80 minutes…Siya, too, will get there for the first match [against New Zealand]," he said.