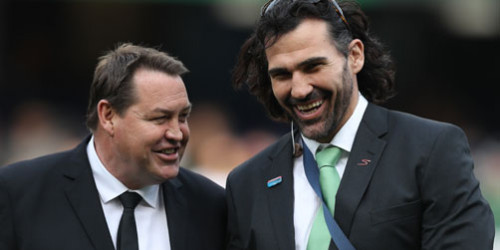 Having been in the doldrums for several seasons, and having had a turnover in coaches, the 36-34 win over the All Blacks in Wellington was a big fillip for the side whose last appearance in New Zealand had resulted in a 57-0 drubbing. They backed that up last weekend with a win over Australia in Port Elizabeth.

EXCLUSIVE | ??? "The loss for us in Wellington was a difficult one, they played really well. I'd say they'd be pretty confident to be at home this week,"

READ ?? https://t.co/c8sAc2Mwf6 pic.twitter.com/qD772avJgV— All Blacks (@AllBlacks) October 3, 2018
Matfield told sarugbymag.co.za, "The comeback and victory against New Zealand was outstanding. It's not just any team that can go over there and beat the All Blacks, and then they backed it up with a win over Australia.
"Yes a lot of people say Australia are not that great, but they've still got very special players and I think it was a good victory.
"But we're all waiting for this weekend, I think this will show where we are exactly," he said.
Lock Matfield played the All Blacks 27 times in his 127-Test career, being on the winning side nine times while losing 18 times. But he was also part of the side that achieved back-to-back wins in 2009.
Starting the international season with a series win over England in June had been fantastic and a great start for new coach Rassie Erasmus. But then losses away to Argentina and Australia had upset them although if they had taken their chances they could have arrived at the weekend having won everything so far, he said.
He had been impressed with the work rate the Springboks were showing.
"I just think the Boks are demonstrating an unbelievable work rate. If you see a lot of the tries we've scored, it's not just on defence it's because we're in the faces of the other teams the whole time. The work rate and the way the players are working for each other is fantastic and we are scoring a lot of tries and that is really good as well," he said.
As a player who has run out onto Loftus Versfeld many times, for both South Africa and the Bulls in Super Rugby, he said the atmosphere at the ground for the Test match would be the best experienced for a long time.
"I can't wait for the anthems and the haka. I think the stadium will go mad. No one can wait for this game, it's going to be great," he said.
NEWS | The #AllBlacks will be looking to finish the Rugby Championship on a strong note as they face the Springboks this weekend in Pretoria.

READ ?? https://t.co/8di8sjDkwJ pic.twitter.com/1zGwUj1lhX— All Blacks (@AllBlacks) October 2, 2018