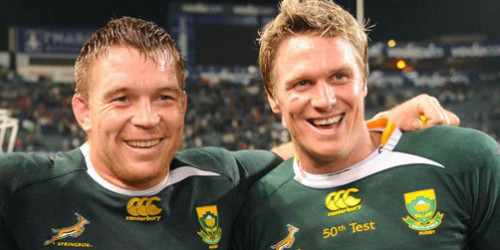 Smit, who led the side to Cup success in 2007 and who played 21 Tests against the All Blacks between 2000-2011 for eight wins, said a win would be vital for the side's confidence ahead of the quadrennial event.
---
QUICK TAP: KEY PLAYERS RE-COMMIT TO ALL BLACKS SEVENS TO 2020
---
"In the past, I would have said a win against New Zealand before the tournament wasn't that important. In the past few World Cups, however, the Boks have boasted a lot of experience across the board. That won't be the case when the team travels to Japan next year," he told sarugbymag.co.za.
A good foundation had been laid by South Africa this year but it was crucial they beat the All Blacks at least once before the Cup.
"They need that win for the sake of their confidence. If I was the captain or the coach, I'd want my team to have ticked that box before facing the All Blacks in the first game of a World Cup campaign. I would want to know my players have done it before," he said.
So with that demand in mind what will it take to achieve a win?
"Your error rate has to be at its absolute lowest. If you don't produce an accurate first-phase performance and if you don't respect possession, you will never beat them," he said.
"We were successful against them for a time and they actually started to change the way they played to circumvent our strengths. They avoided kicking to touch, as they were wary of Victor Matfield and our lineout prowess. They looked to employ those quick throw-ins and became a lot more dangerous on the counter-attack as a result. They tried to keep the ball alive a lot more, to speed things up and ultimately prevent us from implementing our game.

??? TEAM NAMING | Here is your #AllBlacks 23 to take on South Africa in Wellington this Saturday.

FULL STORY ?? https://t.co/OkkRcLFPk1#NZLvRSA pic.twitter.com/s18SPV1PYC— All Blacks (@AllBlacks) September 12, 2018
"We played direct rugby and we were successful. That Bok side was blessed with a number of great ball-carriers who were able to get across the gainline and secure possession. The All Blacks don't really enjoy it when these big South African boys come around the corner phase after phase."
The effectiveness of that approach had been seen when the Sharks employed it in the Investec Super Rugby competition against New Zealand teams earlier this year.
Breyton Paulse, who played the All Blacks 13 times for five wins between 1999 and 2007, said winning the battle up front was only part of the requirement, however.
"When we bullied the All Blacks up front, we usually came out on top," he said.
"Things have changed a bit since I played, in terms of the Boks and the game as a whole. I'm pleased to see that the current Bok side is looking to harness other strengths and that Rassie Erasmus is embracing a new mindset.
"Handre Pollard, Willie le Roux, Aphiwe Dyantyi and S'bu Nkosi are all natural ball players. Damian Willemse is another exciting player who must jol with the side sooner rather than later.

?? Here are 5? players to keep an eye on when @Springboks take on the #AllBlacks in Wellington this weekend.

READ ?? https://t.co/HEygZ4wDNM#NZLvRSA pic.twitter.com/uL9CyakXyq— All Blacks (@AllBlacks) September 11, 2018
"The Boks have to get the basics right and implement the right defensive systems to be successful, but it's good to know we have more options on attack. When that all clicks, the Boks are going to be a forced to be reckoned with," he said.
Former midfield linchpin Jean de Villiers, who played the All Blacks in 23 Tests between 2002-2015 for nine wins, said even a dominant forward effort and innovative and clinical backplay still may not be enough to beat the All Blacks.
The side he captained between 2012 and 2015 had come close to beating the All Blacks several times.
"We believed we were good enough to beat them. When we eventually got over the line in 2014, the reaction of the players was revealing.
"Some of the guys who hadn't beaten the All Blacks before were absolutely elated. Others – such as the players who had done it before – were a bit calmer. Perhaps that showed who truly believed a win against the All Blacks was achievable. It shouldn't have come as such a surprise, though. We should expect to beat them.
"We make a big thing about the rivalry, and rightly so, but the players have to believe they are good enough to beat New Zealand. There is a lot of respect for the All Blacks, but you have to treat them as just another team on the day," he said.
?? This is what's on the line this weekend - the Freedom Cup.

??? Limited tickets still available ?? https://t.co/WTcp2Q9Jqo pic.twitter.com/k95QN3kJvn— All Blacks (@AllBlacks) September 12, 2018