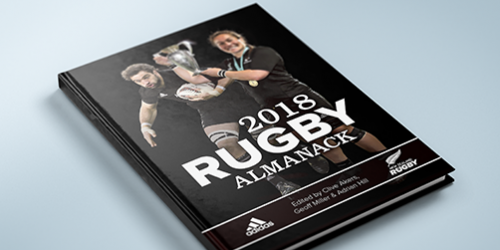 It comes with a reassuring thud and will rest, for the next 12 months, less than an arm's length away on my desk. Its arrival ends that 2-3 weeks of limbo from Super Rugby kickoff when it is difficult to access accurate team information from 2017.
---
Some dip in and out of the Almanack. I like to read from the front, soaking up the editorial, through the players of the year and onto the team summaries.
While the All Blacks and their season record always lie prominent in the early pages, some of the most interesting stuff is to be found towards the back, where lies the schools wrap, the first-class stats and the obits. The latter are always fascinating and while the deaths of Piney and DJ are faithfully noted, there is good, previously unseen, information on the likes of Tom Lister and Sandy McNicol.

One of the features of the 2018 Rugby Almanack (the NZ tag is superfluous) is that, for the first time, a woman adorns the cover. Not just any woman, mind you. One of the great Black Ferns warriors, Fiao'o Fa'amausili, is shown with the Women's Rugby World Cup, her fourth and the team's fifth such silverware.
This writer loves a good rugby stat. Cricket's Wisden takes the cake in statistical authority, but try some of these for size: former Highlanders and Otago wing Paul Cooke scored 134 tries in 192 first-class games. He was a superb finisher, though not so hot on defence. But Cooke's strike rate is superior to the following big names: Jonah Lomu, Beegee Williams, Sitiveni Sivivatu, Julian Savea, Joe Rokocoko and Hosea Gear.
Barry Fairbrother of South Canterbury (1981-92) is, and will probably stay forevermore, the greatest drop goal exponent in New Zealand first-class history. His 61 pots came in just 118 games, meaning he was nailing one every second outing.

To those who think the Black Ferns have just started carving up in recent times, here is one for you: between 1991 and 2009, our national women's team lost just one international, to England in 2001. That is amazing.

One of the editors, Clive Akers, is a long-time supporter and advocate of women's rugby and this Almanack has 82 pages devoted to women's rugby, more than ever.

Turn to page 259 for the popular Happenings section, where you will discover that Asafo Aumua is the eighth All Black who debuted before appearing in Super Rugby. You will know that Todd Miller was the first in 1997, and he did so just months after returning overweight from a two-year Mormon mission.
The Almanack NZ XV tends to follow the All Blacks selectors (why would you not?), but the editors have plumped for Matt Todd over Ardie Savea.
We could go on. But if you are a true rugby fan who loves your stats and accurate information, you know where to go. Almanack first, internet second.

Eds. Clive Akers, Geoff Miller, Adrian Hill
Upstart Press
RRP: $55
Introducing the first female to ever appear on the cover of the NZ Rugby Almanac - Fiao'o Fa'amausili! #IWD2018 pic.twitter.com/OYXHzh7sQm— Black Ferns (@BlackFerns) March 8, 2018