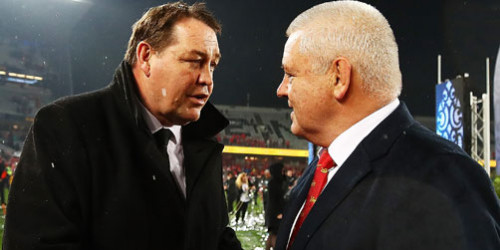 Writing in The Rugby Paper, Peter Jackson said Gatland was putting himself in the position to win the Rugby World Cup with Wales this year and the All Blacks in four years' time.
"Nobody has ever thought about a double on such a global scale, let alone attempt it," Jackson said.
Gatland wouldn't say it, Jackson said, but he probably views the World Cup in Tokyo as potentially the most historic achievement if Wales can pull it off.
"The winning mentality underpinning Wales' long unbeaten run sends them to Japan perfectly equipped to make the most of a highly favourable draw.
"If they justify their ranking as the second best team in the world, Wales will be destined to reach their first final. Should they win it, then Gatland's homecoming to Hamilton as head coach of the Chiefs would be seen as a prelude to the ultimate job of running the All Blacks," he said.
Meanwhile, former Wales and British & Irish Lions wing Shane Williams said he believed Gatland's move home only pushed him one step nearer to coaching the All Blacks.
"Can you imagine the world's best coach taking charge of the best team on the planet?" he asked
"That is one scary prospect! Obviously that looks a way off for now, but I can certainly send it being on Warren's radar. When he was my coach with Wales and the Lions it was clear to me how proud he is to be a New Zealander.
"He would speak to us about the country a lot and I think that's why he's stayed so long with Wales and has enjoyed his time in charge so much. New Zealanders and the Welsh are very similar people – fiercely patriotic, proud, often stubborn, and absolutely made about rugby!"
Williams said Gatland appeared to have mapped out his rugby future perfectly.
"We all hope – in Wales at least – that he ends the year as a World Cup winner and then the Chiefs will be the next to benefit from his guidance. They're the perfect fit for him for a number of reasons," he said.
One was the logistical factor in returning to home territory, the other was his ability to turn 'also-rans or middle-of-the-road teams into real competitors and serial winners'.
"I'm sure Chiefs supporters will be delighted at his signing. They have a formidable team, but they haven't won a Super Rugby title since 2013. I'd imagine that might change in the next two or three years. Warren will only improve the likes of Brodie Retallick, Sam Cane, Damian McKenzie and Anton Lienert-Brown.
"It I was another Super Rugby head coach, I'd be very worried," Williams said.