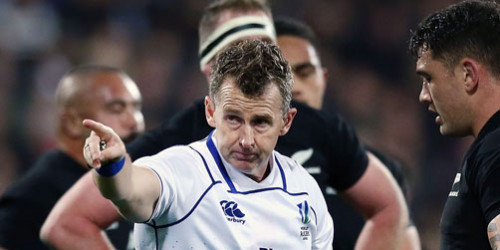 Writing on walesonline.co.uk, Owens said he had read various comments claiming the game had gone soft for the way recent incidents had been handled in British rugby.
But he said from where he sits that wasn't the case.
---
"If anything, it's become more physical and more hard in terms of the ferocity of tackles.
"It is also not as dirty as it was many years ago when cheap shots were the norm," he said.
"There is a huge difference between dirty and hard play, let me emphasise.
"I refereed the New Zealand versus South Africa Rugby Championship match in Wellington last weekend. Some of the hits in that game were monumental and even had me thinking to myself 'How the heck do these players get back up to their feet?'
"It was a great game of rugby, one of the classics no doubt, and credit to the two teams for that. It was brutal and physical in the contact areas, but never during the game was it dirty. There wasn't even any foul play. It was no-holds barred and, as I say, brutal – perfect evidence that the game has not gone soft. No way has it," he said.

?? The #AllBlacks have hit the streets in Buenos Aires ahead of their Test against Argentina this weekend. Catch up with the team as they stroll the streets of Argentina's Capital. ????

FULL VIDEO ?? https://t.co/9U1B1Ga5J4#TeamAllBlacks pic.twitter.com/UHI4SuJl1V— All Blacks (@AllBlacks) September 23, 2018
Players in modern rugby were bigger, fitter and stronger and the ball was in play for long periods, up to 45 minutes in some games.
"Even the free-flowing Wales team of the 1970s only had a ball in play time of around half that in their matches," he said.
It was only natural that players would get tired, and that was when mistakes could happen. Player welfare did have to be a priority and the laws needed to make the game as risk free as possible while retaining the true character of the game.
"Nobody wants to lose the massive hits in matches and I wouldn't want to be involved in games where you take that element away. A huge hit which upends an opponent can send a crowd into raptures as much as a brilliant solo or team try," he said.
The Wellington Test had been a perfect example of that.
"I almost winced at some of the challenges, but they were legal and the players on the end of them simply got up, dusted themselves down and dished out the same medicine to their opponent next time.
"Rugby at its best and played within the laws of the game. Perfectly fair, perfectly legal, the spirit in which the sport should be played," he said.
ICYMI | From his rural upbringing in Wales to controlling the #RWC2015 final, @Nigelrefowens gives an inside seat to his story on the #AllBlacksPodcast

??: https://t.co/G9NC44heZm pic.twitter.com/UCraZTwvu8— All Blacks (@AllBlacks) September 17, 2018