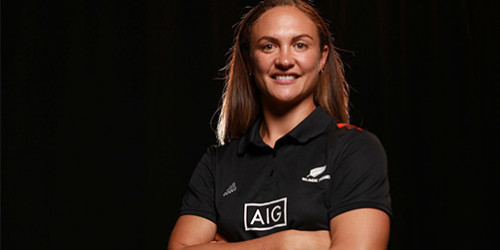 With a new captain and 10 uncapped players named in the latest Black Ferns squad, it's an exciting time for the current World champions.
It's been seven years since the Black Ferns last announced a new captain.
The five-time World champions have been led by inspirational skipper Fiao'o Faamausili since 2012. Faamausili captained them to two of those titles.
---
QUICK TAP: NEW BLACK FERNS CAPTAIN NAMED IN SQUAD FULL OF FRESH FACES
---
But after retiring at the end of 2018, Black Ferns coach Glenn Moore sought a new leader and he found one in Les Elder.
"Glenn actually made mention of the captaincy role late last year," said Elder.
"I had some time to go away and think about it and process the decision with my family and my support network and it went from there."
The Bay of Plenty specialist number 7 made her Black Ferns debut in 2015 and was part of the 2017 World Cup winning squad. It was in 2016 that Elder was put through her toughest test.
She broke her leg whilst playing for Waikato in the Farah Palmer Cup and she had serious doubts about whether her rugby career had come to an end.
"I definitely thought during that time that my career was over. I took a call from Glenn and he said it wasn't over for me and to get back on the wagon. He said I had a World Cup to strive for and that was really all the inspiration I needed. Now we are here and it's exciting."
ICYMI | The #BlackFerns squad has been announced for the upcoming Super Series in San Diego and Tests against Australia!

READ ?? https://t.co/afya0qsqZM #BackBlack pic.twitter.com/qxTP8MaEwl— Black Ferns (@BlackFerns) May 14, 2019
Faamausili led Elder for four years, so she certainly left a legacy for the new captain.
"Fi always led through her actions and that is something that has really inspired me. I came into the team environment and her and a few other leaders like Linda Itunu and Justine Lavea wrapped their arms around us new girls and made us feel comfortable.
"For me, first and foremost, it's going to be about doing the same thing for the new caps we have coming through."
Ten uncapped players have been named in the 2019 Black Ferns squad for the upcoming Super Series in San Diego and the Laurie O'Reilly Memorial Trophy Test matches against Australia. Elder's been inspired by the new members.
"We have been in camps all year and the young ones coming through have really impressed. There is so much talent and potential. They are bigger, stronger, faster and really exciting to watch. I'm looking forward to seeing them grow."
Elder has been working in the women's space for the last few years at Bay of Plenty rugby. She has recently moved into a High Performance role as the women's player development manager. It's a role she thoroughly enjoys.
"It's awesome and I have a whole lot of new challenges which is great. I've seen the game grow at the real junior level and now I'm working in the HP space with our up and coming athletes."
The 13-Test Black Fern will be joined in the leadership team by Kendra Cocksedge and Selica Winiata who have been named vice-captains of the side.
The Black Ferns kick off their International Test season with their opening match of the Super Series in San Diego against Canada on Saturday 29 June, 11am NZT.
Congratulations to all 31 #BlackFerns who were capped at Eden Park on Saturday. A very special shout out to Fiao'o Faamausili who also received her 50th cap!

?? @GettyImages pic.twitter.com/JNNhuDHUGV— Black Ferns (@BlackFerns) May 13, 2019