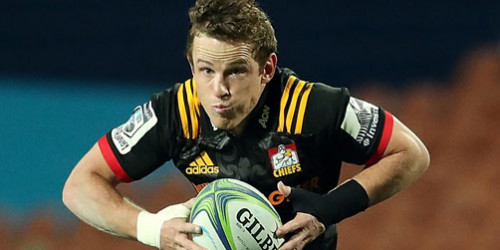 While both are good chances to qualify for the playoffs they still need to keep winning to hold off later runners and also to gain the best possible position on the ladder.
---
QUICK TAP: RISING BRUMBIES HAVE HURRICANES IN THEIR SIGHTS
---
The Highlanders go into the game off the back of their 30-14 win over the Hurricanes in the last round while the Chiefs lost 20-34 to the Crusaders.
Assistant coach Tabai Matson said the game was important in the grand scheme of things for the Chiefs and it was a case of having all available hands on deck to get their campaign re-started and going in the right direction.
Having exited the depths of a New Zealand winter, Matson said Fiji had not been as hot as expected and temperatures on Thursday were around 20 degrees and 'absolutely perfect for rugby'. And that was expected to continue for the next two days.
The side had prepared for hotter conditions via a heat room that had been created at their Ruakura training base with all their fitness equipment in it and players spent around 30 minutes a day working out in 30degree temperatures and 100 percent humidity.
"Over the past 10 days we've been preparing for hotter weather than we've arrived at. Hopefully it will pay dividends when the humidity hits and the temperature rises," he said.
With lock Brodie Retallick out, Matson said it was great to have Tyler Ardon back from concussion, an injury that prevented him playing for Canada in June Tests. He was a good technician in the lineouts and was dangerous in loose play with the ball in hand.
A player who also featured on the blindside flank, he had a versatility that was often under-rated, Matson said. In a long competition like Super Rugby that quality, especially when injuries struck, was a godsend for teams.
"His ability to play No.8, which he has, and at lock is just gold for us and probably more important he plays both those positions really well," he said.
It was hoped that Retallick would be available for next week's game against the Brumbies. He was still a day-by-day prospect but once the weekend was over and he had done more work it should be clear by Monday if he would play.
"We've got our fingers crossed that he keeps moving in the right direction," he said.
Blessed with openside flanker resources there had been a robust discussion on the choice of who would be on the bench for the game but Matson said Mitch Karpik was playing so well he had forced the selectors' hand and if something happened to Sam Cane in the first minute of the game having Karpik on hand was critical.
Having played in Suva before, Matson said there was a feeling that they were getting the support of Fijian fans in spite of the fact it was the Highlanders' home game.
Here's YOUR team to take on the Highlanders in Suva this Saturday! Who's pumped?! #HIGvCHI #ChiefsMana pic.twitter.com/RdjQcyEpRP— Chiefs Rugby (@ChiefsRugby) June 28, 2018