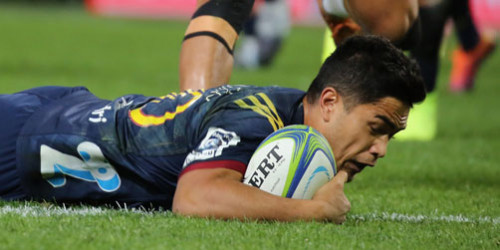 It was a game in which neither side gained the ascendancy they wanted to hammer home the winning advantage. The initial impetus was with the Highlanders but the desire, determination and guts of the Chiefs kept them in the game and they scored three tries in the final quarter to get up to claim a draw.
Leading the way with a game that signalled his arrival as a prospective international was blindside flanker Luke Jacobson, the former world championship-winning NZ Under-20 captain, who had a phenomenal game, alongside No.8 Tyler Ardron and second five-eighths Anton Lienert-Brown, whose command in midfield was an inspiration.
Highlanders halfback Aaron Smith produced some key plays in his side's scoring chances while first five-eighths Josh Ioane demonstrated his rising stature in the position. Of concern for fullback Ben Smith was a head clash and leg injury, just before the end of the game when caught in a tackle with Jacobson. The All Blacks fullback had to be assisted from the field. Lock James Hemopo was another who had a big game in the tight-loose exchanges while hooker Liam Coltman was ever present in the tight.
It appeared Lienert-Brown may have opened the scoring after a dropped Highlanders ball on the Chiefs 10m line which he toed downfield and then won the chase to the touchdown. But a TMO check revealed the dropped ball had been knocked down by Lienert-Brown in the tackle.
And when play returned downfield from that scrum No.8 Elliott Dixon made a strong run from a lineout and when tackled the ball was recovered and first five-eighths Josh Ioane made his first mark on the night when taking the gap to score.
The Chiefs struck back moments later courtesy of an in-pass off a ruck by lock Michael Allardice to Ardron who stormed into space and then had halfback Brad Weber racing up in support to take a pass and score.
Inspired by Jacobson the Chiefs kept the pressure on the home team. They were looking to break out again when just inside the Highlanders half, wing Sean Wainui threw an inside pass only to have it intercepted.
That ball was moved to Ben Smith, and he set in train a movement which saw Ioane chip ahead, regain the ball and then from a ruck in the Chiefs' goalmouth, Smith, who had been tackled in the previous movement, got up and ran into halfback where he took the ball, side-stepped the close defence and went over for the try.

WOW! Contender for match of the season, what a contest. #HIGvCHI #RaiseTheStakes pic.twitter.com/ro64wTaD7A— Super Rugby (@SuperRugbyNZ) May 4, 2019