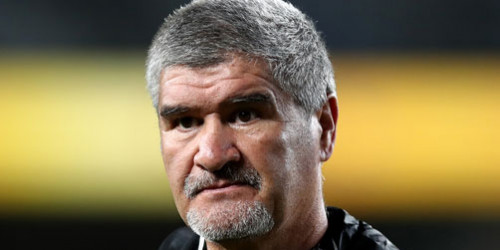 Latest to join the list of frustration after their 8-23 loss to the Blues in Auckland on Saturday was lock Mitchell Brown who suffered a knee injury. Given the side has gone through six locks this year they have brought Bay of Plenty lock Aaron Carroll and Dayman Leasuasu from Counties Manukau into their squad.
---
Coach Colin Cooper said: "Sometimes you sit back and reflect and say, 'why us?', but it is developing younger men and it'll be best for the Chiefs."
The side also has still to complete its All Blacks rest rotations with prop Angus Ta'avao, halfback Te Toiroa Tahuriorangi and second five-eighths Anton Lienert-Brown all to still miss one of their three remaining games.
The Friday game against the Reds was a must-win for the side.
"Particularly this one at home in front of our fans. The brutal fact is it is a short turnaround and we have to win," he said.
With time to reflect on the Blues game Cooper said he probably shouldn't have made the post-game comments that he did.

?? @skysportnz presenter @KirstieStanway has selected her form #SuperRugbyXV based on the player performances from round 1??4??. Looks like a solid team!

You can select your weekly form XV right here ?? https://t.co/8YShltuDVw pic.twitter.com/KwetqOkZZT— Super Rugby (@SuperRugbyNZ) May 20, 2019
"In the emotion of a loss you say things that you probably shouldn't have said. There were some calls that really affected the momentum of our game so you talk that. I don't usually, but it was so disappointing, it just stopped the momentum of us being in that fight.
"Speaking straight after the game, that was my gut. Now I've had a good look at things and at the end of the day we didn't deserve to win the game, we weren't good enough, we didn't have enough ball, we lost our shape and those decisions stopped that. At 10-8 we were in the fight with no ball.
"We had an opportunity to really nail that game I felt if we had got the ball so those momentums that the referee [halted] affected us but at the end of the day we weren't good enough," he said.
Cooper said he would follow up his thoughts through the usual channels to Super Rugby game manager Lyndon Bray because to do nothing would not prevent similar things happening again.
"I think it's all we want as coaches, consistency and we'll take it on the chin. But when there is not consistency in the use of the TMO…
"But that's our game isn't it, it's not an easy game. If we haven't got referees, we haven't got a game.
"I think if we can work harder on the consistency, we'll all be a bit happier," he said.
ROUND 1?5? | Following some shock results last weekend, how hard will it be to predict this round? ??‍????‍??#RaiseTheStakes pic.twitter.com/83vMgPgbWA— Super Rugby (@SuperRugbyNZ) May 19, 2019