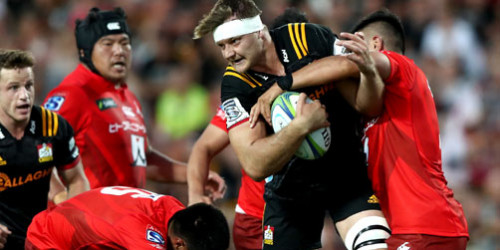 Captain for the Jaguares game in Buenos Aires on Sunday (NZT), Michael Allardice said there was no room for complacency after their Pretoria win. The Jaguares had threats all across the park.
They were also capable of doing what African teams could do around the pack but they could also offload the ball well and score from anywhere and the Chiefs had prepared as well as they could to nullify those threats.
Allardice said it was an honour to be asked to lead the side out, although he had done that in pre-season games and during games when captains had left the field.
Not too much would change for the side, it would be business as usual. They had a good leadership group with Damian McKenzie, Anton Lienert-Brown and Brad Weber which took a lot of stress out of decision-making and it was a 'pretty democratic leadership operation we run', he said.
The side took lessons from their loss to the Jaguares in Rotorua last year. They had gone away from the game plan and into their shells when the Jaguares played with line speed and physicality.
"We were easily in there with a chance to win that game but we didn't and it was definitely one we wanted to forget about last season but obviously another opportunity this year to play them in their back yard and hopefully come away with the win," he said.
Assistant coach Neil Barnes said while the Chiers had taken a confidence boost from their win over the Bulls but they were also respectful of the Jaguares, especially after that Rotorua result.
"They're a very good team, an international team really. We're well aware of their ability and we're going to have to work very hard to get the right result here, so it's about starting again this week and making sure we add to what we did last week and become a better team from it," he said.
Barnes said the decision-making in selection over the tighthead prop choice between Nepo Laulala, who starts this week, and Angus Ta'avao, both of them All Blacks, were always difficult decisions, but at the same time that was good.
"Twelve months ago we didn't have any alternatives at all so we've got two class tightheads and both playing very well but the competition between them is good and that's very good for our team," he said.
Laulala, who has had two seasons of injury frustration, had been performing very well and that was demonstrated in the two big tackles he made within moments of taking the field from the bench in Pretoria and he had scrummaged very well.
"I'm pleased with the way he is going. We're more than happy with the way both of them are going," he said.
Luke Jacobson has gained another start on the blindside flank after his delayed start to the season while recovering from concussion.
"He's a good player as he showed last year. He got an opportunity at the end of last year and played six games on the trot in the finish before he had his concussion issues. He's definitely getting better and better, getting longer and longer on the paddock and tells me when he came off last week he was feeling really good so he's performing well," he said.