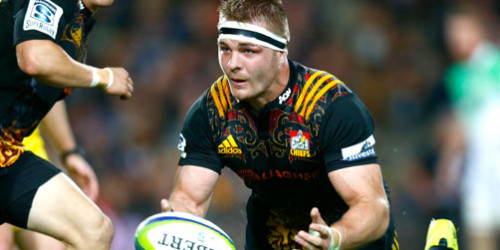 Blindside flanker Liam Messam has been rested with Mitchell Brown coming into the side while Anton Lienert-Brown will move in from centre to second five-eighths with Tim Nanai-Williams moving to centre and Toni Pulu playing on the right wing.
In the reserves hooker Sabastian Siataga could celebrate an unlikely few weeks since being called into the side as injury cover by making his debut off the bench.
---
QUICK TAP: HURRICANES READY TO STEP IT UP A NOTCH AGAINST CHIEFS
---
Assistant coach Neil Barnes said of Cane's return that apart from the fact Cane was a very good player he added to the leadership available in the side. While he had been out of action, the management had been pleased with the efforts put in by Lachlan Boshier and Mitch Karpik, who had both proven to be very capable footballers.
There was no temptation to play either of the younger pair on the blindside of the scrum because the players in that role had been performing well and for the moment the side had very good depth in the loose forwards.
There was no injury to Messam. He had played two 80-minute games and was being rested which allowed for Brown to be given the start.
"Mitchell Brown has been training the house down and all the boys in our team know that he's a no-nonsense type of player. He's uncomplicated, he just gets on and does the job. As a coach I've got a lot of faith in him," he said.
First five-eighths Stephen Donald was back on the bench having had some concussion issues but having him back was a big help to Aaron Cruden in working on how the backline runs.
"It's the first opportunity we've had to use him so we're quite chuffed to have him and Sam as experienced players back into our 23," he said.
The call-up of Siataga was due to the concussion issues the Chiefs are facing at hooker and also Nathan Harris having a long-term injury.
"He's someone I've been aware of, he's had a couple of seasons with Bay of Plenty although last year he had a fairly bad injury early in the season and we never saw him again but he's been in training with us for a couple of weeks now.
"He's got some subtle skills in the game that I enjoy seeing, he's throwing pretty well so it's an opportunity to see how he goes under a bit more pressure and who know where we'll lead from there but he's a player I think has got a bit of a future," he said.
Expected poor weather would not require any alteration of the Chiefs' game plan. Fields were sand-based now and players should have the skill levels to be able to cope, he said.
James Lowe, who has announced his move to Leinster at the end of the campaign, had 'serious x factor', he said, and he would be missed 'big time' by the Chiefs.
"Anybody who's been in our environment knows that he's one of these players who lifts the spirits of everyone, he's happy go lucky, but he's a class player. He's obviously got things he would like to improve in his game but he is going to be sorely missed in this country and inside our team as well," he said.
Fresh off his 100th #SuperRugby appearance, Aaron Cruden and @ChiefsRugby will face @hurricanesrugby.

TICKETS: https://t.co/C8jIa1u5dz pic.twitter.com/stgZJzpL0f— Super Rugby (@SuperRugbyNZ) March 8, 2017