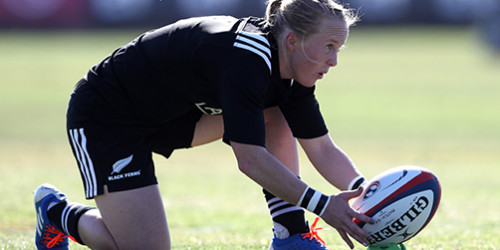 Black Ferns Head Coach Glenn Moore has named the team today for their third match of the Women's Rugby Super Series 2019.
The team is (number of caps in brackets):
1. Toka Natua (18)
2. Te Kura Ngata-Aerengemate (26)
3. Aleisha-Pearl Nelson (31)
4. Eloise Blackwell (Vice captain, 39)
5. Charmaine Smith (23)
6. Pia Tapsell (2)
7. Marcelle Parkes (3)
8. Charmaine McMenamin (21)
9. Kendra Cocksedge (Captain, 49)
10. Ruahei Demant (7)
11. Ayesha Leti-I'iga (5)
12. Kelly Brazier (38)
13. Carla Hohepa (20)
14. Renee Wickliffe (37)
15. Selica Winiata (Vice captain, 37)

16. Luka Connor (1)
17. Phillipa Love (9)
18. Leilani Perese (7)
19. Karli Faneva (1)
20. Kennedy Simon (1)
21. Arihiana Marino-Tauhinu (2)
22. Chelsea Alley (20)
23. Alena Saili (3)
Moore said captain, Les Elder, was being rested with an injury and Wellington's Marcelle Parkes would start at 7. Pia Tapsell moves to blindside flanker and Charmaine McMenamin into Number 8.

The #BlackFerns having a ?? at the Padres game in San Diego tonight! pic.twitter.com/YzsW75HbuN— Black Ferns (@BlackFerns) July 4, 2019
"We expect Les will be right for the final match and Marcelle has now played a couple of Tests, been in the environment for a while, and is looking forward to starting in that position."
With two matches of the series now under their belts, and seven players having made their debuts, Moore said it was now time for the Black Ferns to take their game to the next level against the French.
"We've had a couple of good wins but if there's one thing we know about the French it's that they take a step up when they face the black jersey. We saw that when we played them twice in France eight months ago."
The French lost to Canada in the Super Series 36-19 earlier in the week.
During last year's November series against France, the Black Ferns won one match and lost the other.
A milestone 12 years in the making, Taranaki-born Kendra Cocksedge, is regarded as one of the world's best halfbacks, and in 2018 she became the first female ever to win the Kelvin R Tremain New Zealand Rugby Player of the Year.
Along with 50 Tests in the black jersey, Kendra also holds the Black Ferns record for highest number of points scored at 305.
First selected for the national side in 2007 at age 19, Kendra has played in three World Cups and was named World Rugby Player of the Year in 2015.
In Canterbury's red and black, Cocksedge has clocked up a record 800 points in total over 12 seasons in the Farah Palmer Cup. Off the field she is New Zealand Rugby's Women's Rugby Development Manager for the Crusaders region.
Moore said Cocksedge played a huge role in the Black Ferns.
"Kendra directs the team around the field and she's been the best number nine in the world for a number of years now. She is relentless and very competative and she trains as hard as she plays."

?? HIGHLIGHTS | The Black Ferns put on a clinical display against @USARugby in their Super Series match in San Diego, running in five tries to none to record a 33-0 victory.

MATCH REPORT ?? https://t.co/gtCXlEpeK3#NZLvUSA #SuperSeries2019 pic.twitter.com/MNdd2wl2JA— Black Ferns (@BlackFerns) July 3, 2019
He said Cocksedge was influential off the field as well, helping to set the culture of the Black Ferns.
"It will be a very special moment on Saturday [local time] because she also gets to captain the team on her 50th outing."
New Zealand Rugby CEO Steve Tew has congratulated Cocksedge on her 50-Test achievement.
"Kendra is an oustanding ambassador for our game and her pursuit of excellence is impressive.
"I know Kendra well personally, and she embodies the spirit and culture of the Black Ferns both on and off the field. Her enthusiasm for her sport is infectious and her skill on the field is world-leading. She is among New Zealand's greatest players - as her New Zealand Rugby Player of the Year Award last year attests.
"Kendra's legacy not ony inspires young players to want to be like her, it also motivates those around her."
New Zealand Rugby will recognise Cocksedge's achievement next month during the double header match featuring the Black Ferns and All Blacks against Australia at Eden Park in Auckland.
Cocksedge is the second most capped Black Ferns after former Black Ferns captain Fiao'o Faamausili who retired at 57 caps at the end of 2018.
Chula Vista Elite Athlete Training Center
Saturday, 29 June
v Canada
Result: Black Ferns 35-20 Canada

Chula Vista Elite Athlete Training Center
Wednesday, 3 July
v USA
Result: Black Ferns 33-0 USA

Chula Vista Elite Athlete Training Center
Sunday, 7 July
v France
Kickoff: 9.15am (NZT)

San Diego's Torero Stadium
Monday, 15 July
v England
Kickoff: 8am (NZT)

Laurie O'Reilly Memorial Trophy
Optus Stadium, Perth
Saturday 10 August
v Australia (With All Blacks v Australia)
Kickoff: 7pm (NZT)

Eden Park, Auckland
Saturday 17 August
v Australia (With All Blacks v Australia)
Kickoff: 5pm (NZT)

Broadcasting
All matches will be broadcast live in New Zealand on SKY Sport 1.

?? WATCH | The #BlackFerns welcomed back Kelly Brazier to the 15s game yesterday! Hear how she's found the transition back from Sevens. #SuperSeries2019 pic.twitter.com/LthyRgQXKQ— Black Ferns (@BlackFerns) July 3, 2019