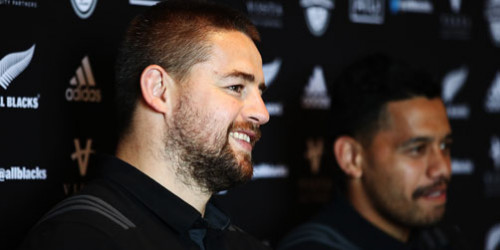 Coles, a 56-cap veteran since making his Test debut in 2012, said frustration in his recovery occurred when he had three false starts that left him needing more rehabilitation.
---
"That was the hardest thing, to overcome those little setbacks and get back on the horse again. But I'm glad I kept at it. It was tough but I just kept chipping away. The motivation for me was just to play rugby, I love the game and was keen to play," he said.
It didn't matter whether that was in the Mitre 10 Cup for Wellington or whether it was on the northern tour, playing the game was what he missed, he said.
Staying engaged with the Hurricanes during the season had been helpful in whatever role he could be of help to the side, and even that brought the challenge of trying to be the best water boy he could be.
He understood he still had the drive to play for New Zealand and he felt through all the hard work to recover that he had something to offer the side still.
During his time out of action there had been micro changes to processes in the All Blacks methods and he was still getting his head around those features.
Considered for the captaincy in the Test against Japan he said after the year he had he needed to be selfish and look after himself and as a result he didn't think he should be available for that role. He would support whoever was captain and he had a leadership role if he was selected.
Halfback Te Toiroa Tahuriorangi said Coles was an inspiration to the less experienced members of the side and he had been involved in teams with him for a few years now and all he could say was, "Colesy's back".
Not having played since an appearance against Argentina Tahuriorangi said he was a little nervous ahead of the team naming but if he didn't get the starting role he would be supporting whoever was named.
With Bryn Hall and Mitch Drummond also in the halfback reckoning, Tahuriorangi was working with them just as Aaron Smith and TJ Perenara worked together with him in the main All Blacks squad.
He said he found that an interesting exercise because he saw his role in preparing the halfbacks selected as mimicking the play of the halfbacks they would be facing. That gave him a double-edged appreciation of the roles of the position.
Coles said he had been impressed with fellow hooker Codie Taylor's play in his absence and he said Taylor was his pick for player of the year in the side.
"It's good for the All Blacks and good for New Zealand rugby that we've got that depth. He's been waiting his time and he's taken his chance. I'm happy for him, we're pretty close and it's good to see he's taken those reins and it's up to me and Nathan to put pressure on him and compete," he said.

The #MaoriAllBlacks have touched down in Chicago ????

The team kicks off their Northern Tour on Saturday when they meet @USARugby at @TheRugbyWeekend #TripleHeader pic.twitter.com/0jznzFvi0R— All Blacks (@AllBlacks) October 29, 2018