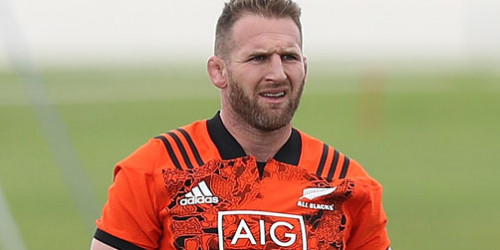 The two sides are unbeaten in the Championship this year, with the South Africans drawing their last game, against Argentina, but their players were a year more experienced and they were playing with confidence and enjoyment which revived hopes that game would be a typical contest in the traditional rivalry between the sides.
---
QUICK TAP: WOMEN'S RUGBY TO BE CELEBRATED AT ALL BLACKS TEST
---
Read said it was a slightly different challenge for the All Blacks playing in Albany instead of Eden Park.
The week of preparation had been about trying to constantly improve and not resting on what they were doing while always looking for ways to get better.
Read said it had been good for the team to have had experiences like those they had been through this year and against a South African side coming to play them with a bit of confidence it was about the new players nailing their little bit of the game plan.
"They've been great. They've come in, really excited, plenty of enthusiasm so I'm really looking forward to what they do," he said.
As a captain the changes to the team each week meant having to realign himself to be the go-between from the coaches to the players to make sure they were all aligned because it was a squad game now and that had certainly been the case this year with the number of players who had been used.
"I've just continually tried to push myself and in doing so hopefully the boys can follow me and keep going well.
"But we know it's a different challenge we've got tomorrow night. It's pretty big so we're looking forward to that," he said.
There were lessons to be learned by players about playing in games that didn't always go the All Blacks' way.
"We've got to experience that as a team. Most teams come up against us and probably have their best game of the year or certainly put as much pressure on us as they can. It's a good mindset for our players to have as well - that you can't just turn up, we've got to be pretty ready to bring what we can," he said.
Read felt they were building well, a lot of players had been exposed to Test play, and now it was important to finish their season at home well.
"We can't wait to do that in front of our home crowd," he said.
With the emphasis on the scrum, as a result of propping newcomers in Nepo Laulala and Kane Hames being included after injuries to Owen Franks and Joe Moody, Read said Laulala and Hames scrummed well together.
"They worked well at the Chiefs and it's not a prop thing, it's a whole eight game in the scrum and we've got to get the power through.
"We've got some good experience with Wyatt [Crockett] to come off the bench so he'll bring a calming influence when he comes on," he said.
With the large community of South Africans on the North Shore of Auckland Read expected them to bring some hype and excitement while barracking for their countrymen and he hoped it matched the quality of the game.
Best part of the Captain's Run - autographs and selfies with the fans! ?????? #NZLvRSA ???????? pic.twitter.com/IkSz8NlNrb— All Blacks (@AllBlacks) September 15, 2017