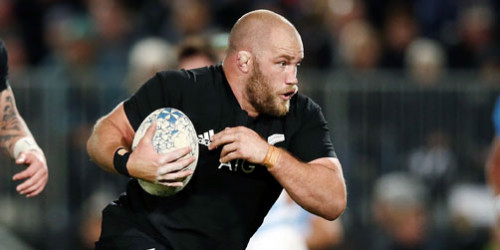 Adding to the requirements of the All Blacks was the need to put their last loss to South Africa behind them.
Tighthead prop Owen Franks said the forward contest with South Africa had been what the side were expecting and the scrum battle had been 'fairly even'. But there had been some things to work on.
---
While they enjoyed a wealth of possession there were areas where ball had been dropped and they were not as accurate as they could have been and that had affected the performance overall, he said.
The post-game review had been honest and had highlighted obvious issues.
"It's always good to get the review out of the way so you know what your focuses are going through the week and you can move on from the last game good or bad – you know what your purpose is at training and what to get better at," he said.
Franks also spoke about why he had specialised as a tighthead prop. He said he had swapped around a little earlier in his career between tighthead and loosehead but when becoming a fulltime player he made the decision to stick to one position.
"That was purely because I didn't want to be the guy who got swapped over, it's so tough to do," he said.
The choice for tighthead was down to the fact it suited him better and it was probably a little more technical than loosehead.
"You have to be right on where looseheads get away a little more with just brute strength and more of an attacking mindset. Both have their challenges but I enjoy the challenge of tighthead a little more," he said.
Franks said scrum coach Mike Cron likened the difference between the two roles as being asked to throw the ball with your right hand and then being asked to throw the same distance with your left. It was completely different and he took his hat off to any prop that could do it.
Franks said he never disrespected the Argentine scrum because there were times when they didn't look so dominant and then the next game they could be worldbeaters.
"That happened to me so I'll always treat them with the same amount of respect. As far as I'm concerned going into this week they've got the best scrum in the world, that's the ability they have to be able to turn it on," he said.
Lock Scott Barrett said in the last Test with Argentina in Nelson there was a good performance across the park but this time around it would be a different challenge with the Pumas at home.

???? Rugby views: Taranaki, New Zealand. Show us a picture of your favourite rugby ground in the world. ??????#TeamAllBlacks pic.twitter.com/PPx4NuaxC6— All Blacks (@AllBlacks) September 22, 2018
"They'll be fired up and they are a skilful team with a good forward pack so it's going to be a big challenge and we've got to prepare for that," he said.
Barrett said he was expecting to study the Argentine win over Australia in the next few days, especially in his areas of concern, the lineouts, scrums and forward play generally.
Lock Tomas Lavanini was a physical player who had a good work rate and against Australia had pulled off a key tackle at a vital stage of the game to help them win while locking partner Guido Petti was a good lineout forward and leader and the All Blacks would be looking to contain them.
Because of the athleticism of their forwards they were able to get high in the air at lineouts, especially on defence.
"They're throwing guys out of their hands and getting real high, so we've got a few ways around trying to manipulate that without giving too many secrets away.
Having a week off after the loss to South Africa meant there was time to stew over the outcome while there was also a bit of 'a ittle bit of an extra knot in the gut' to get back on track and get a win, he said.
"At the same time you've got to put that behind you and focus on what's ahead," he said.
Franks said the side would need to work hard on their defence because Argentina had the ability to make things come off as a result of good offloads and good support play while Barrett said discipline would be important as well.
?? How do the All Blacks recover from long haul flights? Find out from @TJ_Perenara and Codie Taylor following the 12 hour flight to Buenos Aires! pic.twitter.com/0V3uu5nFwX— All Blacks (@AllBlacks) September 24, 2018