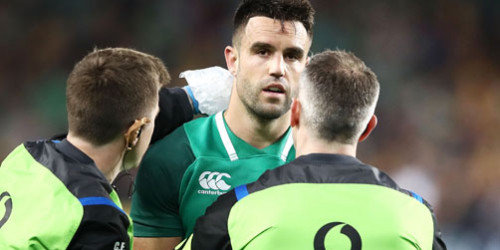 Murray has not fully recovered from a neck injury that has kept him out of all rugby this season and it is still unclear how long it will be before he plays again.
---
Murray, along with Aaron Smith, the best halfback in the world game at the moment has targeted a return for the Six Nations next year.
"I'm itching to play, I'm pretty much fully training and I feel good. It's just making sure it's right and the lines of communication with Munster, Ireland, the national coaches, everyone has been clear and they're happy I just get it right and make sure I come back ready to go, rather than pushing it," he told media.
Murray said the injury was one that could not be pushed and he needed to be sure his neck was strong enough to return to play.
He had prepared himself with having to sit on the sideline for Ireland's Test with the All Blacks.
"As a fan, it's really exciting, this November is going to be really, really cool," he said.
But while he couldn't take part it would be an opportunity for someone else.

??? "I appreciate every opportunity I have playing against the best team in the world" - Will Genia says the Wallabies are raring to go in the third #BledisloeCup Test in Tokyo this weekend.

READ ?? https://t.co/79oG92DgyN pic.twitter.com/TiLCU1pp8F— All Blacks (@AllBlacks) October 24, 2018