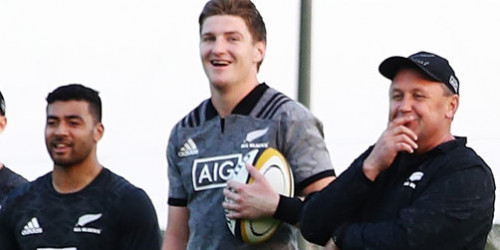 All Blacks assistant coach Ian Foster said there was an expectation that Japan would be looking to make an impact in the game and coping with the unusual would be an asset for the New Zealanders.
---
"We've got to be smart, we've got have a game plan that we can adapt and adjust to what's happening,' he said.
That meant the week's preparation was spending time helping those chosen to understand the intended game plan, and the reasons for it, so they could just go out onto the field knowing what cues to look for and acting on them, he said.
The routine was similar to preparation for any Test match and it was for the new players to get on board and to work with the more experienced players to get the clarity they needed.
"There's plenty of homework going on behind the scenes at this stage, it's only Tuesday," he said.
Japan were a side who were getting better in ensuring themselves of front foot ball from set-piece play which was crucial to playing their game at the tempo they wanted. That had been evident in their June internationals against Italy and Georgia when the two countries had tried to take them on up front but Japan had achieved parity.
They also had the ability to generate fast ball at the breakdown.
Foster said the selectors were impressed with half Te Toiroa Tahuriorangi's time on the field against Argentina. He was a crisp passer of the ball and had stuck to what he was good at and that would be the goal for him when his minutes in action get higher.
"He's got a couple of good role models in front of him in TJ [Perenara] and Aaron [Smith] who are getting better and better at doing that," he said.
Foster said he had been impressed with the way Japan came back from conceding a big 7-31 lead to the World XV to lose 28-31 in their game at the weekend, and they had played well with their ball-in-hand game in the wet.
The All Blacks noted the ability of the outside backs who were quick to make use of any room they were given and No.8 Michael Leitch was well known to New Zealanders because of his play for the Chiefs in Super Rugby and they respected his leadership role in the side.
"He's clearly an inspirational player for that team," he said.
The side's halfbacks also impressed and Japan would be a hard team to slow down. It was shaping as an exciting game.
Japan was a side that always had a few tricks up their sleeves and they would be expecting the unexpected from them.
The influence of Hurricanes coach John Plumtree as an assistant coach for Japan with responsibility on defence was noticeable and Foster said there were similarities between the ways the Hurricanes defended and the way Japan did. But they also had some Hurricanes players they could call on for inside information themselves.

?? #ONTHISDAY in 1989, Newport RFC found out there was no running away from the Haka.

?? = @SportsCafeNZ pic.twitter.com/ID1lXyjEgo— All Blacks (@AllBlacks) October 30, 2018