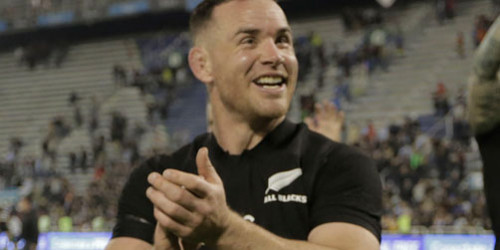 With the All Blacks preparing for the final Investec Rugby Championship Test of their season, the dead rubber as a result of New Zealand already having the Championship sewn up has been kept alive as a result of their loss to South Africa in Wellington three weeks ago.
---
All Blacks hooker Codie Taylor was the focus of attention for the local media as they sought comments from him about his opposite number Malcolm Marx, regarded by many as the best hooker in the world, although Taylor wasn't without his own supporters in that regard.
But when the questioning continued beyond the usual, Crotty stepped in to ease the pressure and made the point of how much he had seen Taylor's stocks rise not only with the Crusaders, but also in the absence of another contender for best hooker in the world, Dane Coles.
Press conferences don't always allow, or show, that sort of teamwork but it was an example of understanding that has helped the All Blacks assume such stature in the world game.
The #AllBlacks have arrived in Johannesburg, and what better way to recover and adjust to the time zone than with a series of mini challenges!#RSAvNZL pic.twitter.com/4L1cToOYhD— All Blacks (@AllBlacks) October 1, 2018
Meanwhile, from his own area of expertise Crotty reflected on where South Africa had unsettled the usual All Blacks assuredness in Wellington by bringing more line speed in defence while numbering off a little differently to what they had in the past.
The All Blacks had taken some of those lessons into the Argentina Test and would be looking to take them into the weekend's Test.
They had been put under pressure by South Africa in Wellington and this weekend they would be looking to turn the pressure around, he said.
The biggest factor about the loss was the disappointment the side felt. Afterwards the disappointment was evident in the changing room but the lessons from it were about their lack of communication on the field.
"We were feeling good when we were 14 points up then we let them back in ourselves. They created a wee bit of pressure but we let them in the game. We could executed a bit better down the stretch," he said.
At the same time they always believed they were going to get the job done. But the loss had reinforced just how important their connections were on the field.
Now it was about settling back into their usual Test preparations after recovering from their flight from Argentina and getting themselves in the best possible shape to be ready for Sunday's (NZT) challenge, he said.
?? Post-match celebrations#ARGvNZL pic.twitter.com/ZSOHuSOnzM— All Blacks (@AllBlacks) October 1, 2018