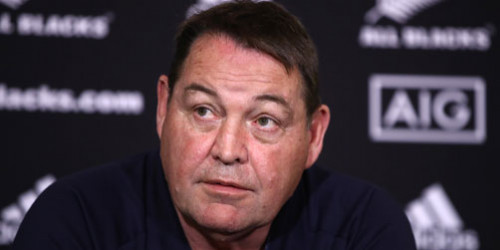 "This is the best challenge we could get prior to going to a World Cup," he said.
"We're going to get asked some questions about ourselves. We didn't front up last week and we need to front up this week or the Bledisloe Cup will be going back to Australia."
---
QUICK TAP: ALL BLACKS STILL NUMBER ONE FOR SPRINGBOKS COACH
---
He hasn't backed off making some tough selection choices with prop Owen Franks, and wings Ben Smith and Rieko Ioane being dropped for Nepo Laulala, Sevu Reece and George Bridge respectively.
Hansen explained: "Obviously we'd like to see Ben, Owen and Rieko playing better but we've made decision because we've got to find more about these other people in big pressure cooker situations and you don't get much bigger situations than this one.
"To win the World Cup we've had to roll the dice a bit and that's the No.1 priority. We wouldn't be doing it if we didn't think that the guys we've put in are good enough to do the job on Saturday if we play well.
"I don't think it's a risk and there's lots of rewards in it," he said.
"The reason we've done it is to see if these three players can step up to the plate under the biggest pressure. What happens if we get to the World Cup and Ben Smith blows a tyre or Rieko blows a hamstring and we've got to put some young guy in there who's never faced pressure like this before?" he said.
Hansen said the management were confident that Smith, Franks and Ioane would be at their best for the Rugby World Cup and they were not far away from that.

?? THROWBACK | We all remember Beauden Barrett's 4? try haul at Eden Park last year. Who's pumped for the #BledisloeCup decider on Saturday?#NZLvAUS #BACKBLACK pic.twitter.com/BmT5wNCMK4— All Blacks (@AllBlacks) August 15, 2019
Both Bridge and Reece had been in good form with Reece the best wing in Super Rugby while Bridge had played two Tests coming off the bench and doing well.
"We've seen enough, probably more than we had seen Rieko when we put him out against the Lions. Everyone said, 'You can't do that', but how did that go?"
Hansen said the tight five would need to lift their effort 200 percent and he expected Sam Whitelock, as the player who had appeared in more than 100 Tests, to be leading the way.
"He's the big boy in the pack so you expect those guys to lead, not the guys who haven't played too many Tests," he said.
While it was his 100th Test match as head coach with the side, Hansen said he hadn't even thought about that. He wasn't big on milestones and said it was a privilege to be coach of the All Blacks even if it had been for only one Test. All Tests were special and this one at Eden Park was an exciting Test because there was a lot on it and would test the All Blacks' resolve.
?? STORY | All Blacks record @edenparknz unbeaten streak on the line in #BledisloeCup decider.

READ ???? https://t.co/9XRQ8cfI0m#NZLvAUS ?????? pic.twitter.com/42f4B9wDeI— All Blacks (@AllBlacks) August 14, 2019
They were well aware how tough the Australians with a scent of the Bledisloe Cup in their nostrils would be.
"It doesn't matter who they pick, they are going to come with a lot of confidence, a lot of resolve and they've got one hand on the Cup and we've got to take it off it," he said.
"It's about this Test. It's probably our home Test ground - there's a lot of history there. It's a privilege to be part of it and I'm really excited about it, and looking forward to it."
Asked if their record on Eden Park, where they haven't won since 1986, would cause some self doubt in Australian minds, Hansen said, self doubt had never been an issue for Australians.
"I've never met an Aussie with self doubt, I've never met one. If you can introduce me to one I'd like to meet him."
Hansen said he had always been aware of the talent Australia possessed, he had been saying that for some time.
"When you've got talent it's going to come to the surface eventually when you get things right and, obviously with Scott Johnson there now and the environment's a little different, they're doing a good job so that talent bubbles to the top and that's what you get. The expectation now is they deliver on that all the time."
ALL BLACKS ROAD TRIP | Eden Park sold out, so the All Blacks v Tonga clash is your last chance to see the All Blacks play before they head to Japan.

?? 7th September, 2:35pm, FMG Stadium Waikato.
?? https://t.co/t0RNW7GV7c pic.twitter.com/QSIn4258eS— All Blacks (@AllBlacks) August 14, 2019